The holiday season can be a difficult time for those who are grieving. Because it's a time to be with loved ones, it can easily magnify a loss. 
Three years ago, a couple days before Thanksgiving, I miscarried for the fourth time. I still vividly remember sitting at my parent's home, eating dinner and trying to be thankful…but feeling angry and depressed instead.
I didn't want to celebrate Thanksgiving. I wasn't thankful that year.
I was angry and devastated that God had allowed me to lose another baby.
Maybe you can relate.
Maybe you're dreading the holidays this year because it's the first holiday season you'll "celebrate" without a loved one. Here are a few things to keep in mind.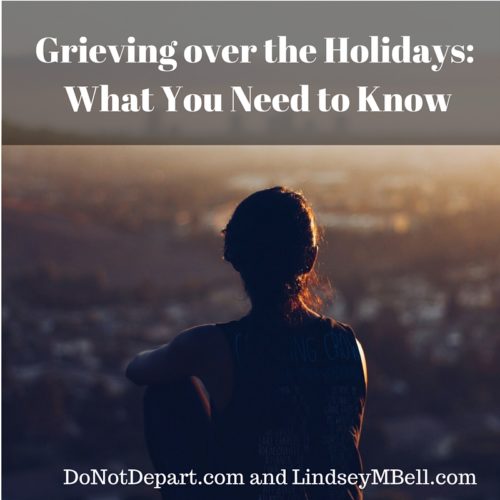 What You Need to Know If You're Grieving This Holiday Season:
Allow yourself  to feel whatever you are feeling. If you're angry, let yourself feel it. If you're sad, let yourself be sad. On the other  hand, if you're happy, don't feel guilty about it. Being happy after a loved one has passed does not mean you love them any less. Allow yourself to feel.
God gave us emotions, so don't bury them or pretend they don't exist.
Do something special to remember those you've lost. 
Light a candle for your loved one. Say a prayer. Share a story. Hang a special ornament at Christmas time. Put flowers on the table in his or her memory.
You might not be able to handle as much this year as you typically do. That's okay. Be gentle with yourself. Prepare a back up plan ahead of time if you need to leave early or not attend something.
Surround yourself with loved ones.
Though it might be tempting to skip out on everything this year, try not to do so. Isolating yourself will only make the loneliness and sadness grow. Surround yourself with those who will love and support you through the holidays.
Create a new tradition….or don't. 
Some people find it helpful to keep everything as much the same as they possibly can. Others like to start a new tradition. Do whatever is most helpful to you.
Do something for someone else. 
In the midst of deep grief, it's easy to become consumed with yourself. (I know because I did this.) It's easy to focus only on your pain, your loneliness, and your depression. Don't ignore your pain, but also don't focus only on it.
One of the ways God often heals our hearts is through our hands, stretched out to minister to another.
Remember, God is still with you. 
Three years ago, I didn't feel God's presence in my life. But that doesn't mean He wasn't there. Our feelings are poor indicators of reality. In an earlier post this month, Ali shared several Bible verses that talk about God's presence.
Sometimes, you have to trust what you know to be true about God…even when you don't feel it.
Are you dreading this holiday season? What other truths would you add to this list?