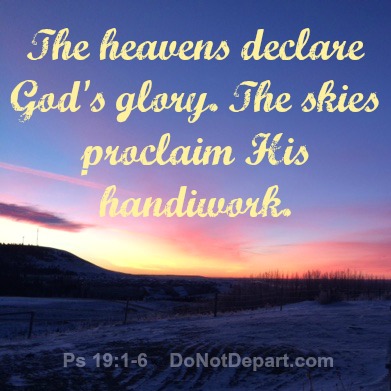 The heavens declare the glory of God; the skies proclaim the work of his hands.
Day after day they pour forth speech; night after night they reveal knowledge.
They have no speech, they use no words; no sound is heard from them.
Yet their voice goes out into all the earth, their words to the ends of the world.
In the heavens God has pitched a tent for the sun.
It is like a bridegroom coming out of his chamber, like a champion rejoicing to run his course.
It rises at one end of the heavens and makes its circuit to the other; nothing is deprived of its warmth.
Psalm 19:1-6, NIV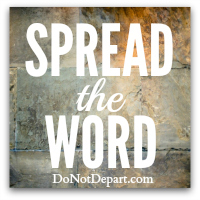 Every day this month the Do Not Depart team will be posting a scripture graphic that you can use to spread the Word of God. Share it on social media, print it out and write someone a letter, email it to someone who needs encouragement.
You are free to share our image with Psalm 19:1 above. If you have questions about how to download images, just ask in the comments (be sure to tell us what type of computer/device you are using.)