How is your memory work coming?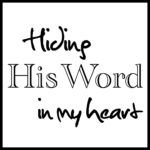 Get ready to share, good or bad. Write up your thoughts, then link here and visit on Thursday, March 1.
Suggested topics:
Verses I have memorized.
How my journey has been (Harder than expected? Easier?)
What God is teaching me through the verses.
What I'm learning through the process itself.
Anything related to memorizing!
Or skip the writing and grab a camera to show us how you're doing. Vlogs are always encouraging.
See you Thursday!