I've found that women don't want to postpone a closer walk with God until they have more time. Women hungry for God need Him today.
– Janet Pope, [amazon_link id="0802409644″ target="_blank" ]His Word in My Heart[/amazon_link]
Want a more intimate relationship with the Word in 2014?
Then come memorize His words with us!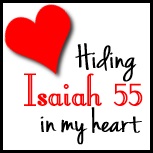 While memorizing scripture is no guarantee for a closer walk with the Lord, nor is it a command or a necessity, it is one great way to spend more time with Him.
As we see and say and hear the words over and over, we allow the transforming power of God's Word to alter our thinking, our behavior, and our very lives.
– Janet Pope
But do you think memorizing a whole chapter would be too hard? Then you might be surprised to hear that memorizing connected verses in a single chapter is often easier than memorizing a random set of disconnected verses.
Beginning January 20 through April 20 (Easter), we'll dig into Isaiah 55, one verse a week. Start spreading the word.
Registration begins on Monday, January 6. Come by to print your resources for 13 weeks in 13 verses full of beautiful truths and promises from the Word.