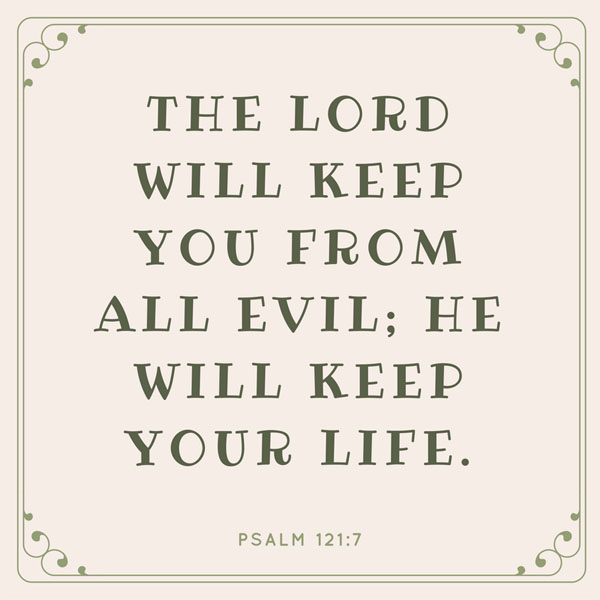 We have only two weeks left as we memorize Psalm 121. We hope your time with the Lord in this psalm, whether a little or a lot, has been meaningful.
This week let's look closer at the verb and its object in the last half of Psalm 121:7.
"The LORD will keep you from all evil; he will keep your life."
Psalm 121:7 (ESV)
Here are four different translations:
ESV: He will keep your life.
NIV: He will watch over your life.
KJV: He shall preserve thy soul.
NKJV: He shall preserve your soul.
The verb keep (or watch or preserve) is from the Hebrew word shamar (H8104). This is its fifth use in Psalm 121 so far (it'll be used again in Psalm 121:8). It means to keep, to hedge, guard, or protect.
The noun life (or soul) is from the Hebrew word nephesh (H5315), meaning that which breathes, vitality.
How does the Lord keep our life safe? Do dangers never befall us? No, we all have times of danger and falls. And eventually, physical death.
But at our deepest core, in the vital places of our soul, we are safe in the Lord's care.
Regardless of what may happen in our circumstances or our bodies, the life of our spirit is protected because the Lord says so.
For more study, read here. "If the soul is kept, all is kept."
What does "keeping your life" mean to you? Please leave a comment here or visit our Hide His Word Facebook group to continue the conversation.