Whoever believes that Jesus is the Christ is born of God, and everyone who loves Him who begot also loves him who is begotten of Him. By this we know that we love the children of God, when we love God and keep His commandments. For this is the love of God, that we keep His commandments. And His commandments are not burdensome. For whatever is born of God overcomes the world. And this is the victory that has overcome the world — our faith. Who is he who overcomes the world, but he who believes that Jesus is the Son of God? (1 John 5:1-5, NKJV)
Here is an awesome truth about love: love for God leads to love for our brothers and sisters in Christ. Let me say that another way. If we love God, then we will love our Christian family.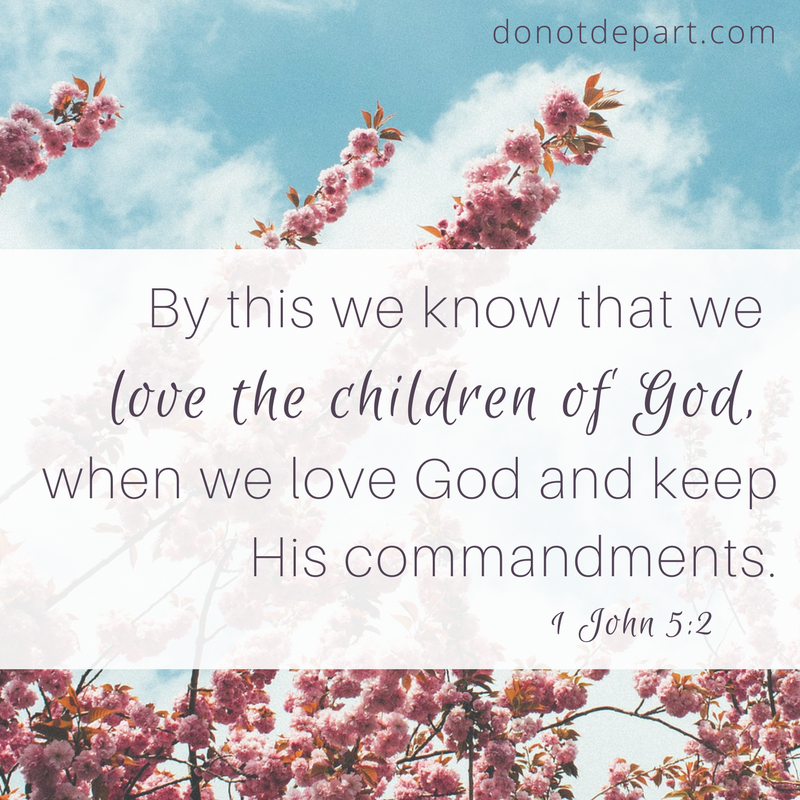 This is stated several times in 1 John. There is no denying that we are expected to love God's children.
He who loves his brother abides in the light. (1 John 2:10a)

For this is the message that you heard from the beginning, that we should love one another. (1 John 3:11)

We know that we have passed from death to live, because we love the brethren. (1 John 3:14a)

By this we know love, because He laid down His life for us. And we also ought to lay down our lives for the brethren. (1 John 3:16)

My little children, let us not love in word or in tongue, but in deed and in truth. (1 John 3:18)

Beloved, let us love one another, for love is of God; and everyone who loves is born of God and knows God. (1 John 4:7)

Beloved, if God so loved us, we also ought to love one another. (1 John 4:11)
And if those seven verse didn't make it clear, this one should:
And this commandment we have from Him: that he who loves God must love his brother also. (1 John 4:21)
We must love. Must. Period.
But here's the thing, loving others doesn't always come naturally. Why? Because our natural state, apart from Christ, is bent toward selfish sin, not selfless love. On our own, left to our efforts and will, we can not love our spiritual siblings the way we are expected to.
Take a minute and read Romans 7:13-25. Go ahead. I'll wait.
What did you notice? Did you notice the repeated use the of the pronoun I? I… I… I… Paul made it clear that on his own he could not do what he knew was right. Neither can we. We can not love the way we know we should. At least not on our own. Not until we do one very specific thing — Believe that Jesus is the Christ (1 John 5:1).
When we put our faith in Christ we become overcomers. We have victory over this world and our sinful nature. We are enabled to love, not just in word and tongue, but in deed and in truth. No, we won't love perfectly. We are still being sanctified, but we can begin to practice righteousness and trust that the Lord will a grow a love for His people deep inside each of us.
Take it further:
Read 1 John 4:20 – 5:21.

Handwrite 1 John 5:1-5. What, if anything, do you believe the Spirit is trying to convey to you personally?

Consider how you show love for God's people. Do these verses lead you to confess anything in prayer?

Study the original Greek for the words

believe

and

Christ

in 1 John 5:1. What do you notice?

What is one practical way that you can love a brother or sister today? Spend sometime in prayer seeking direction.
---