"If I were the devil, one of my first aims would be to stop folks from digging into the Bible."
~ James I. Packer
Which comes first?
a. George Washington becomes president
b. Christopher Columbus sets sail from Spain
c. Abraham Lincoln signs the Emancipation Proclamation
Put these in order:
a. Moses parts the Red Sea
b. Esther takes a stand for her people
c. Solomon builds the temple
If we can get the first sequence correct with ease (b,a,c), why not the second (a,c,b)?
Know more to love more
And does it matter? Would better knowing the sequence of biblical events help us love God more?
It depends.
Do motives matter?
If you have your child in training to win a Bible Bowl trophy or you want to impress your Sunday School teacher or you're trying to get an A in a seminary class, bone up on your Bible timeline. It will help you reach those goals, for better or worse.
But if you're simply (simply?) trying to follow the greatest command (Matthew 22:36-40), then perhaps you also should consider a timeline.
Not to be smarter (1 Corinthians 8:1). But to love more.
Put it in order
Just as knowing the order of U.S. Presidents won't necessarily make us a better American citizen, so knowing the order of Israel and Judah's kings may not make us a better citizen in God's kingdom.
But if the history of God's people was recorded in the sacred Scriptures to build up our faith in Jesus (2 Timothy 3:15-16), every word God-breathed and valuable, then wouldn't we benefit by putting it in order?
I admit, when I read through the Old Testament especially, I can lose track of where I am in the big story unless I look at a timeline of events and rulers. So I made a copy of a simple timeline (out of a Bible or reference book), and tucked it in my Bible. Now I pencil in my own cheat notes as I read and can quickly reorient myself from whatever Bible book I'm reading.
I can better see the finger of God writing his story, bringing his people to just the right place in time and space for Jesus to walk among us.
Our church participated in a Walk Thru the Old Testament workshop three years ago. It's a memorable approach using hand motions (for kids AND adults) to sequence 77 events in the Old Testament. It gives you a great framework to piece together Bible facts. I highly recommend you attending one near you.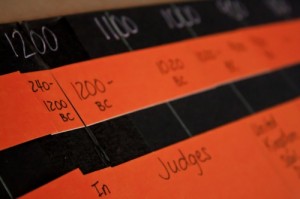 Just as the Israelites were told to rehearse their history often, we should too. I made a timeline of biblical dates for my children with important events. They then practiced each day putting the events in order until they (and I!) had them memorized.
Packaged products are readily available as well—as cards, strips, posters, etc. Many not only include biblical history, but incorporate concurrent world history as well.
And why not add in your own family's spiritual heritage, too?
Then, Now, Later
When we see God's faithfulness throughout history, we can trust him more in the present, and be more hopeful about our future with him.
While God is not confined by time, he has chosen to work through it.
I want to appreciate that more. Be more wowed by his wisdom. Be more awed by his sovereignty. And if that means following his story more closely, then so be it.
Because the more we know his story, the more we'll know him.
And the more we know him, the more we'll love him.
And the more we love him, the more we'll love others.
His legacy of love marches forward.
Do you have a favorite Bible resource for timelines? Please share!
How has knowing God's history helped strengthen your faith?