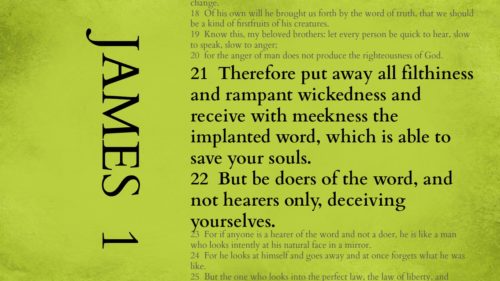 [click on picture above then download for full-size wallpaper]
MEMORIZE
Plan A:
Therefore put away all filthiness and rampant wickedness and receive with meekness the implanted word, which is able to save your souls.
But be doers of the word, and not hearers only, deceiving yourselves.
James 1:21-22 (ESV)
Plan B:
for the anger of man does not produce the righteousness of God.
James 1:20 (ESV)
MEDITATE
Can you receive new things if your hands are already full? There are things you put off, and things you put on. Things you don't do, and things you do.
Listening isn't enough this week. Let's not just hear. Let's do! A great start is by memorizing our verses this week. Please join us.
PRAY
Lord,
Help us lay aside our dirty, ugly words and deeds this week. We humbly replace them with Your words and heart instead. May we demonstrate Your love to all You put in our path.