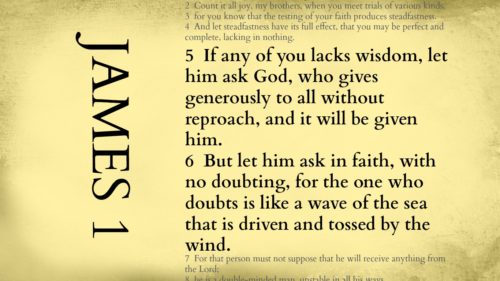 [click on pic then download for full-size wallpaper]
MEMORIZE
Plan A:
If any of you lacks wisdom, let him ask God, who gives generously to all without reproach, and it will be given him.
But let him ask in faith, with no doubting, for the one who doubts is like a wave of the sea that is driven and tossed by the wind.
James 1:5-6
Plan B:
for you know that the testing of your faith produces steadfastness.
James 1:3
MEDITATE
We face many temptations to disbelieve God's goodness. But the more we believe—counting it all as joy—the more complete we become in our faith.
Yet until we reach our fullness, we continue to need more wisdom.
If you memorized Isaiah 55 with us, remember where we go when in need: "Come, everyone who thirsts…come to me; hear, that your soul may live" (Isaiah 55:1-3).
James emphasizes it also: Go to the source! Go to Wisdom Himself. And ask. God is a giver. He won't turn you down. And He won't be stingy.
Confidently ask the right One about the right thing. You can't overestimate God's goodness. Believe that you will see it (Psalm 27:13).
PRAY
Lord,
I believe that you are wise. I believe that you are good. I believe that you are giving. I approach Your throne boldly for wisdom this week. Thank you for what you'll give me.
QUESTION
In what areas do you need wisdom this week? Please share in the comments.
Next Monday, April 27, is our link-up! Please prepare to share a blog post from your own blog about scripture memorization. If you haven't signed up yet to memorize James 1 with us, it's still not too late. Get all the details here.