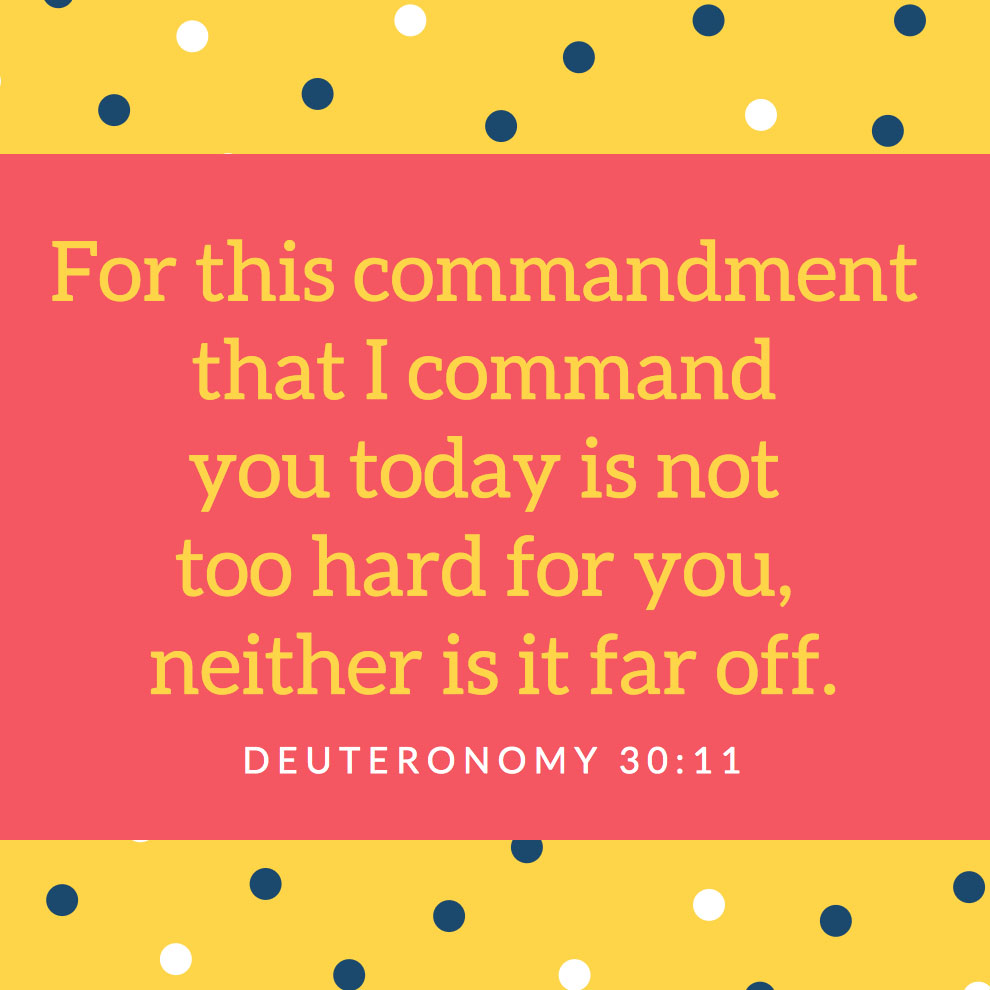 Memorize This Week
For this commandment that I command you today is not too hard for you, neither is it far off.
Deuteronomy 30:11 (ESV)
Today we begin memorizing!
And even if you're not participating in the scripture memory challenge, these words can still benefit your week as you read them here and think about them.
Three Memorizing Tips
For the nitty-gritty of memorizing, take a closer look at each word.
(1) Are there any words that are repeated?
In Deuteronomy 30:11, we see both "commandment" and "command." One is a noun and the other is a verb, making it easy to remember them as a pair.
(2) Also look for patterns or groupings. This verse contains two things that God's commands are NOT:
(Exact wording will vary according to the translation you use; we'll refer here to ESV.)
Noting that there is a group or an order to the words will often help you remember them more clearly.
(3) Look it up. Another way to memorize more accurately is to dig into the original language, not to necessarily memorize the Hebrew or Greek words themselves, but to enhance your knowledge of the English word. Bible Hub is one of the many resources you can access online for word derivations.
For instance, when you look at "hard", Hebrew pala, you see it also means "beyond one's power." Moses was telling them that God's commands weren't beyond their power. (I'm using it to also remind me that memorizing these words aren't beyond my power.)
One Word
I like to highlight one word or phrase in my mind (and on paper) from each verse that stands out to me personally.
What stands out to you in Deuteronomy 30:11?
One special word to me is "today." While Moses was using "today" to signify the very day he was in, it reminds me that I also am in "today." The deep truth in this verse—that God won't ask too much from me—continues to apply to me right now.
Remember the Goal
Let's always remember that while one of our intentions is to memorize these words, our greater goal is to live them.
Memorizing is only a means to an end. Our real purpose is to use these words to help us love God and love others. That is the greatest commandment (Matthew 22:36-40).
See the study guide for verse 11 here, "God's Commandment Is Not Too Hard."
For those who registered, check your email for additional encouragement. God's commandments aren't burdensome (1 John 5:3).
What are your memory tips? What stands out to you in this week's verse? Please share in the comments.