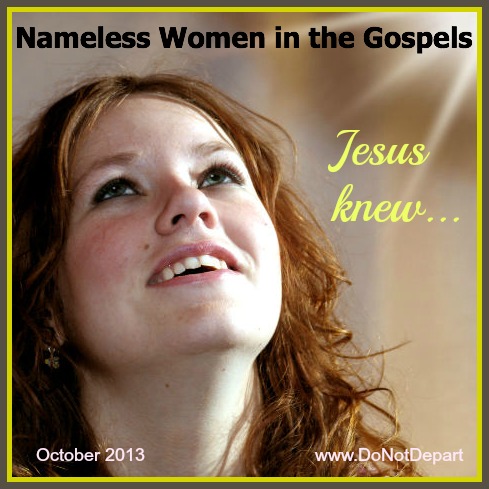 We've read their stories many times. Their pain and grief jump off the pages of God's Word. Their desperate need and raw emotion still flow down through the centuries. But the Gospel writers left out one detail. We don't know their names.
Everywhere Jesus went He met need with power and compassion. The Gospels tell countless stories of healing, deliverance, provision, and freedom.
Sometimes Jesus met the needs of a multitude, like when he multiplied the loaves and fishes to feed 5,000 plus hungry people. Sometimes Jesus met the need of a group. For instance, He provided wine for a wedding feast and calmed the dangerous storm on the Sea of Galilee to save the twelve.
But most often, Jesus met the need of the one. Up close, personal, intimate. Sometimes the name of the one is included in the story and sometimes it is not.
Throughout October here at Do Not Depart, we will be exploring the nameless women Jesus encountered. Unnamed by the Gospel writers, these women were valuable to Jesus. In compassion and power, He reached out and met their need.
And He knew their names.
Do you ever feel "unnamed?" Just one insignificant person lost in an endless stream of needy people? Jesus knows your name. He knows your need. His power and compassion are sufficient for you today.
Join us through this series. Allow Jesus' encounters with the "nameless" ones of the Gospels to encourage your heart today.
Have you ever felt "nameless?" How can recognizing that Jesus knows your name and need encourage you today?