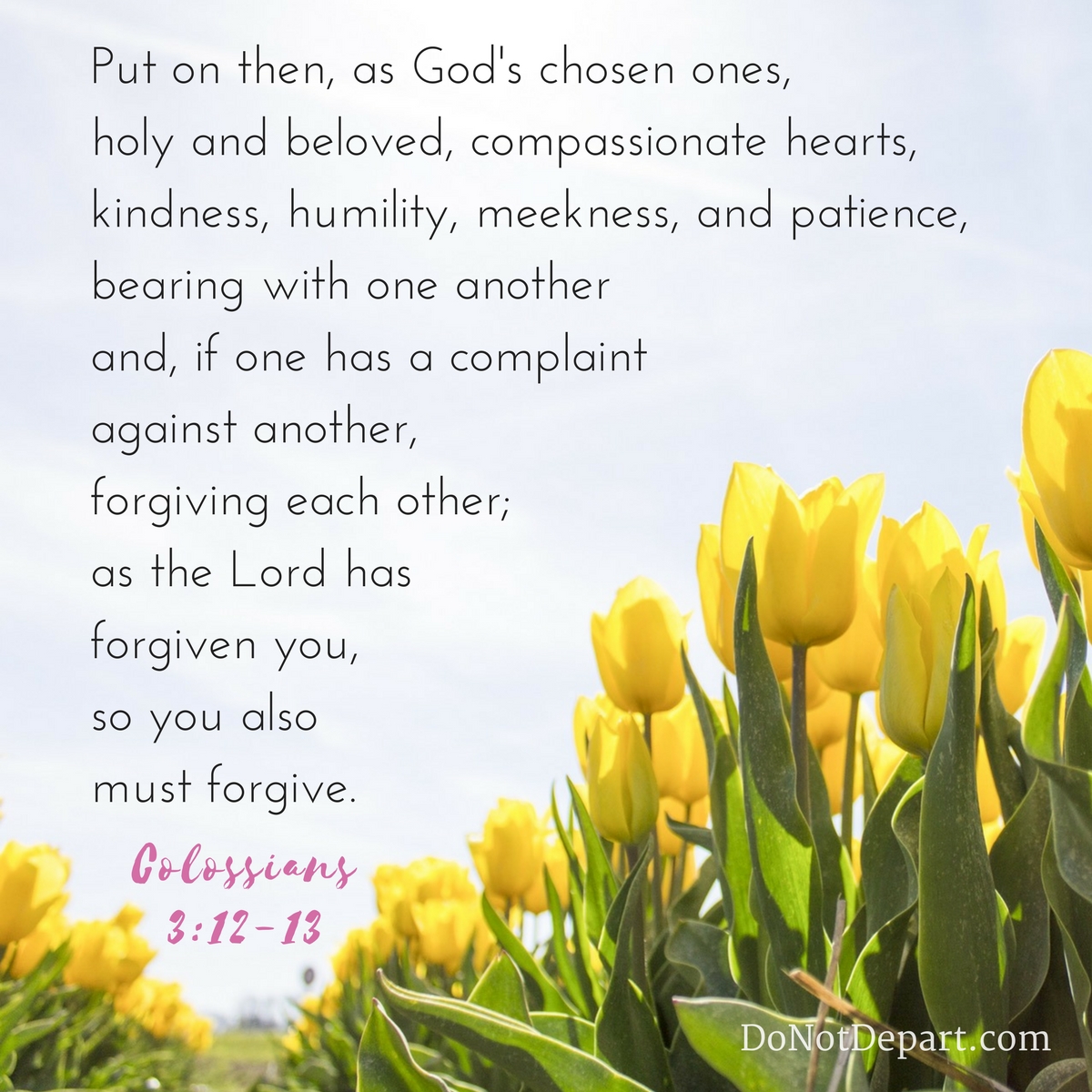 Memorize this week:
Group A
12 Put on then, as God's chosen ones, holy and beloved, compassionate hearts, kindness, humility, meekness, and patience,
13 bearing with one another and, if one has a complaint against another, forgiving each other; as the Lord has forgiven you, so you also must forgive.

Group B
14 And above all these put on love, which binds everything together in perfect harmony.
When you think of "bearing with" someone, do you think of the verse about bearing each other's burdens?
Bear one another's burdens, and so fulfill the law of Christ.
Galatians 6:2
When our friends are going through tough times, we want to bear with them, hold them up. The word "bear" in Galatians 6:2 is G941 bastazō, to carry,  and "burden" is G922 baros, weight. Bear the weight for your brother.
That's one thing.
But what if their burden is in reality their weakness, not just a bad break?
Is it easier or harder to bear if it's something they've brought on themselves?
In Colossians 3:13, Paul says we are to bear with one another and forgive each other. The word "bear" is different here; it is G430 anechomai, to hold oneself up against; to put up with.
Put up with them. It's not easy. Forgive (G5483 charizomai, to grant a favor; deliver) them. That's hard. That doesn't mean we don't correct or encourage change.
But it does mean that we treat others as Christ has treated us.
As you allow these words to sink into your soul this week and put into practice, remember how Christ has put up with you.
And go and do likewise with others.