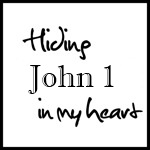 Are you ready to grow more of God's Word in your heart?
One way to ensure a better harvest is to prepare before you plant. Download any or all of these free resources and get ready to memorize.
But whether you'll be memorizing with us or not, would you consider leaving a short prayer or message of encouragement in the comments for all who will be memorizing John 1:1-14 during the 50 days between Easter and Pentecost Sunday? Thanks!
Schedule
Week 1   April 8-14 John 1:1-2
Week 2   April 15-21 John 1:3-4
Week 3   April 22-28 John 1:5-6
Week 4   April 29-May5 John 1:7-8
Week 5   May 6-May 12 John 1:9-10
Week 6   May 13-May 19 John 1:11-12
Week 7   May 20-May 27 John 1:13-14
Memory Cards
The entire text on one sheet. Use as is, or cut into 3×5 cards and place them anywhere your eyes frequent.
First Letter Cards
Some studies suggest recalling data from a minimal amount of cues can boost retention. Use this sheet (or cut into cards) as an additional way to practice the verses from the first letter of each word.
Audio
In your car or iPod or headphones, listen to this mp3 clip of verses 1-14 from Bible Gateway, read by Max McLean. (If you'd like, you can receive free audio of the entire gospel of John.)
Note: This recording does not include the verse numbers. If you make or find a recording that does, please tell us about it in the comments. It's helpful to learn the numbers with the words.
Groups
Join our Facebook page for more memorization tips and accountability.
Link up on April 3 with posts and comments about memorizing Romans 8 or any other scriptures.
Wallpaper
Click on the small picture that best matches your screen size. In the new window, right click on the enlarged image to either "Save Image As…" or "Set as Desktop Background."