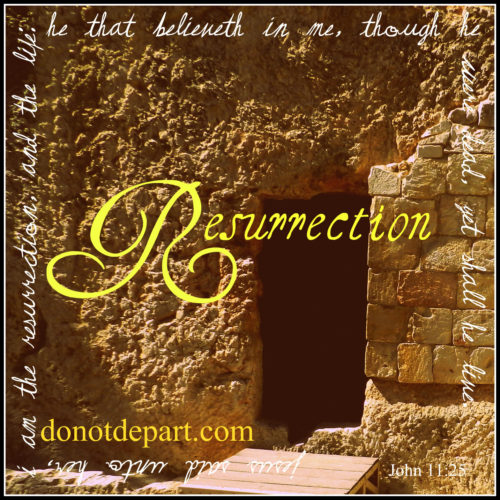 We're born wanting something we can't have. Have you ever lost a loved one? Have you ever battled for your own life? Since death was announced in Genesis 3:19, people have searched for ways to prolong life, live forever, and outwit death. After all, Adam's judgment echoes through the ages to all of us: "Therefore, just as sin came into the world through one man, and death through sin, and so death spread to all men because all sinned."   (Romans 5:12)
From tombs full of riches for the afterlife to quests for the fountain of youth to modern medical technology, the hope of life and fear of death spurs men on to find the key to eternal life. Losses, disappointments, and decay tasted in earthly life point to our shared ultimate end: "And just as it is appointed for man to die once, and after that comes judgment" (Hebrews 9:27).
Only One has power over death. There have always been skeptics; even the Sadducees of Jesus' day scoffed at the thought of immortality. Scripture records the stories of a few who were powerless over death, but they saw God intervene and do the unimaginable: restore life.
Brought to Life In the Old Testament
The Widow of Zeraphath's Son (1 Kings 17:17-24)
The Shunnamite Woman's Son (11 Kings 4:20-37)
The Man thrown into Elisha's Tomb (II Kings 13:21)
Brought to Life In the New Testament
The Widow of Nain's Son (Luke 7:11-16)
Jairus' 12 year old daughter (Mark 5:35-43)
Lazarus (John 11:1-44)
Tabitha (Acts 9:36-41)
Eutychus (Acts 20:7-12)
Saints buried near Jerusalem (Matt. 27:51-53)
These people did not raise themselves, but they were raised by God. His power worked independently, and occasionally through His servants, to defeat death itself. As foretold in Genesis 3:15, the Enemy's plan suffered a fatal blow when the gospel triumphed in the risen Savior. The resurrected life of Jesus makes our abundant life possible. What man could never do, God did.
Resurrection is the conquering of death, the overcoming of the Enemy's plan to thwart God's gift of life. Jesus said, "The thief comes only to steal and kill and destroy. I came that they may have life and have it abundantly." (John 10:10)
This month we celebrate the Resurrection victory over loss and pain and death. With "Easter" at the end of this month, we want to prepare our hearts with fresh appreciation for the Resurrection. All month long, we will share Bible Study tools to help you focus on this greatest of all mysteries that makes abundant life possible.
Behold! I tell you a mystery. We shall not all sleep, but we shall all be changed … the dead will be raised imperishable, and we shall be changed. For this perishable body must put on the imperishable, and this mortal body must put on immortality…"Death is swallowed up in victory. O death, where is your victory? O death, where is your sting?"… thanks be to God, who gives us the victory through our Lord Jesus Christ.
(Excerpts from 1 Corinthians 15:51-57)
Join us this month on Do Not Depart as we share Bible Study Tools to prepare our hearts for a celebration of the Resurrection.