We send it in notes to our friends. We pray it over challenging circumstances. We preach sermons and write books about it.
But what does this Bible passage really mean?
I can do all things through him who strengthens me.
Philippians 4:13
It's said to be one of the most misinterpreted verses in the Bible.
I know what I want it to mean: I can run a marathon, memorize the New Testament, clean out the garage, etc., because Christ gives me strength.
But alas. I don't think the apostle Paul was promising those things.
Instead, quite the opposite.
Perhaps he was saying that:
Whether or not we can walk around the block, we can be content with our spiritual health in Christ
Even if we can barely recite John 3:16, we can rest in Christ's sufficiency for our salvation
Regardless of the cluttered corners in the garage, we can trust the righteousness of Christ residing in us
In Jesus it's possible to be at peace regardless of what is happening around us. Paul did it. Hungry or full. For richer or for poorer. He could be content in all things because Christ strengthened him to.
So even if we can't perfectly understand what every scripture means, we can be content knowing God's peace surpasses our understanding (Philippians 4:7). Because Christ empowers that.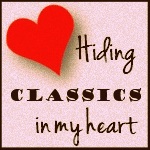 Philippians 4:13 is our final memory verse for Hiding Classics in My Heart. Thanks to all who prayed and participated with us!
Watch for details coming soon about our fall memory project.
In which areas of your life are you content?
Which areas still need work?
Please share your thoughts with us.