Over the years, I've heard many believers say something like this:
"My life is my witness."
And while it is true that our lives should testify to Christ and bring glory to God (Matthew 5:16, 1 Peter 2:12), this kind of statement is often used as an excuse to not open our mouths and speak words out loud about Jesus. People may indeed look at our lives and think we are great, kind, loving people. But if we don't tell them Who makes the difference in our lives, it would just be sheer dumb luck for them to connect our good character with Jesus.
The New Testament is packed full of examples of believers "telling" the Good News of Jesus. The Gospel didn't spread from Jerusalem to Judea to Samaria to Asia and to Rome because the first century believers led good lives. They "showed," "went," and "told!"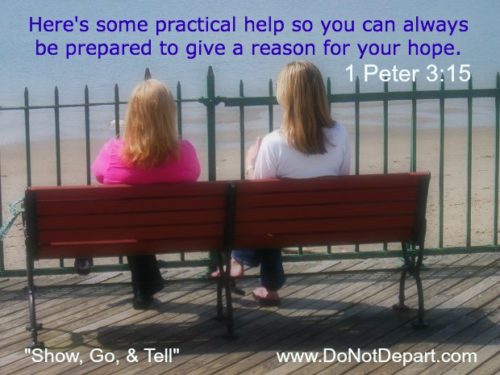 I love Peter's encouragement to tell in 1 Peter 3:15:
Always be prepared to give an answer to everyone who asks you to give the reason for the hope that you have.
Are you prepared to tell others? The rest of this post is filled with some practical helps and links to resources to help you be prepared to give the reason for your hope!
Prepare Your "Story"
Your personal testimony about Jesus' work in your life is really your life "story." And "story" is a lot less threatening word to many people than "testimony." Can I share my story with you?
4 components of your Jesus story:
Background – What was your life like before you came to know Christ? You may not have a "dramatic" story and that's okay!
Transition – What caused you to begin thinking about spiritual things? Even if you were raised in church, there still had to be point where you realized you were a sinner and needed a Savior.
First Step – What was your first step toward God? How did God bring you to salvation? (Be sure to include the primary components about why we need a Savior and how only Jesus is able to save.)
Now – They will be encouraged if you let them know that you are growing in your relationship with Jesus but you have not fully "arrived." It's important that people see that salvation is just the beginning and not the "end." Share what God is doing in your life right now, what are you learning about God right now.
 4 Tips for Helping Your Story Connect:
Use everyday language instead of "churchy" words.
Emphasize an active, dynamic relationship with a person instead of a plan.
Show how your faith is a growing, changing, and fulfilling relationship with a person instead of a one-time decision in the past.
Consider what you can use that will connect with the person you are sharing with. For example, do you both have young children? Maybe you've both recently lost a loved one.
Free Prayer Resource: The most important thing we can do to "prepare" is to pray. Pray for your heart, for God to give you not only opportunity to share, but also to break your heart for the lost. Pray for those in your life that don't yet know Jesus. The "Sharing Jesus" Prayer Guide is a downloadable resource that lists Scriptures to pray for yourself and for those who need to know Jesus. Feel free to print it and share it!
When we take time to pray and prepare, we will be ready when God gives the opportunity. Are you ready? Let's preach it, sister!
When was the last time you shared Jesus with your words? Do you find that hard?
Tweetables:
"Your testimony about Jesus' work in your life is your life "story." "Story" can be less threatening to many.  http://wp.me/p1Su7F-2M8″ – Click here to tweet this.
"4 Tips for Helping Your Faith Story Connect with Others – http://wp.me/p1Su7F-2M8 via @KathyHHoward at @DoNotDepart #ShowGoTell" – Click here to tweet this.