You've got a song in your heart. I know because I do, too. These songs can come out when we reminisce about a past experience, or run into an old friend, or uncover a new challenge.
If it's a good song, it will help us. God will see to that. But if it's not, it becomes a hindrance, a soundtrack we can't turn off, bringing up negative emotions and unhealthy thoughts.
Music can use us. Or we can use music. The songs we listen to today matter not only for today, but also for tomorrow.
While we rarely can choose which new songs will come our way (although we can choose genres, artists, radio stations), among those available, we can choose which ones we'll listen to over and over.
Here are 3 WAYS TO USE MUSIC to build our faith, using the song "Cornerstone" as a model. It's a modern hymn (2012, Hillsong) based on an older hymn (1834, "My Hope Is Built on Nothing Less" by Edward Mote).
[Worship with it here. Also hear why it was written.]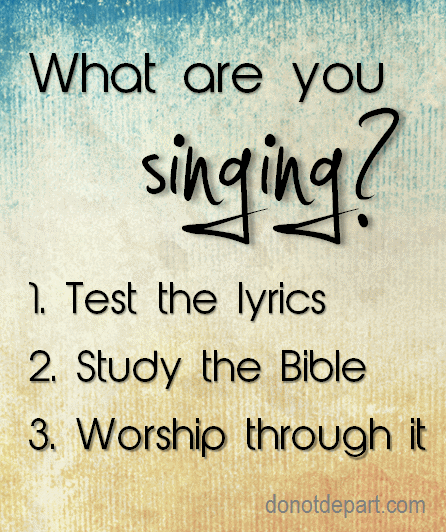 1. TEST THE LYRICS
While some songs appeal to us immediately because we love the tune, we don't want to embed them in our hearts if the lyrics are bad. Examine the words you're singing to make sure they are true and God-honoring.
In "Cornerstone," these verses remind us to depend solely on Christ's righteousness. Even in our doubts, these are lyrics we can sing to bolster our faith in what Christ has done, not in our own works.
Verse 1
My hope is built on nothing less
Than Jesus' blood and righteousness
I dare not trust the sweetest frame
But wholly trust in Jesus' name

Verse 2
When darkness seems to hide His face
I rest on His unchanging grace
In every high and stormy gale
My anchor holds within the veil
My anchor holds within the veil
2. DO A BIBLE STUDY
Often the writers use a Bible passage as a base text. Look it up in context. But even without specific references, we can study general themes to flood our hearts with God's truths.
Writers Reuben Morgan, Jonas Myrin, and Eric Liljero likely pulled from Ephesians 2:20 ("Christ Jesus himself being the cornerstone") for their chorus and theme of "Cornerstone."
Other Biblical references related to this song for study might include: Psalm 118:21-23; Isaiah 28:16-17; Matthew 21:41-43; 1 Corinthians 10:4; Hebrews 11:1; 1 Peter 2:6.
Chorus:
Christ alone Cornerstone
Weak made strong in the Savior's love
Through the storm He is Lord
Lord of all
3. WORSHIP THROUGH IT
Whether you sing it with others or in the car with your kids or at home alone, use the words as personal worship to God. If you know an instrument, learn the chords so you can play it. Introduce it to your church's worship team. Download it to your iPod.
When our church sings "Cornerstone" on Sunday mornings, the praise is powerful. Who can't relate to times of darkness, or the need for more faith, or the profound truth that we stand faultless through Jesus's righteousness?
Verse 3
When He shall come with trumpet sound
Oh may I then in Him be found
Dressed in His righteousness alone
Faultless stand before the throne
Music touches us in places that words alone cannot. Let's use those connections wisely to praise our Lord in every way we can. He is something to sing about!
Tweetables:
"The songs we listen to matter not only today, but also for tomorrow. http://wp.me/p1Su7F-2SK @DoNotDepart #SingPraise"
click to tweet
"Music can use us. Or we can use music. http://wp.me/p1Su7F-2SK @DoNotDepart #SingPraise"
click to tweet
QUESTION:
What song will you put in your heart this week? What is one of your favorite worship songs? Please share here.