Disclosure: Do Not Depart sometimes uses affiliate links. See the bookstore page for full disclosure. Thank you for supporting this site!
I hear giggles. I step into the room and see smiles and beautiful play. My daughter has two of a similar toy and hands one to her brother, grinning as she says, "Your turn!" in her sweet, baby girl voice.
It's beautiful. It's peaceful and energetic at the same time.
I praise them for acting so kind and sharing so well.
And suddenly someone pushes someone else and someone screeches and we're into a bickering moment (even though brief).
How quickly we came down that mountaintop with the peaceful view of calm hills.
The same thing happens in my own faith life.
I pray. I consult God first (what I always want to do, but so often forget to do). I act on that faith with love regardless.
But then, just as suddenly as a shove, I'm tumbling down that mountain. I grumble, I forget, I worry.
Why can't I stay on the glorious mountaintop?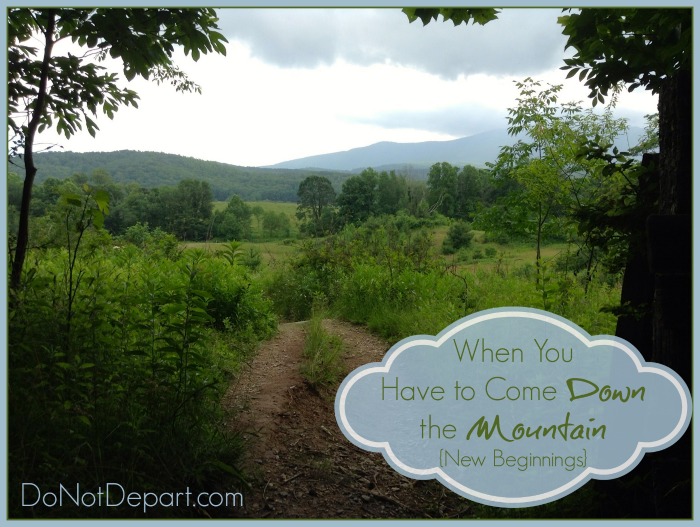 We Can't Stay Yet
We want desperately to stay on the mountaintop. For me, personally, that's part of what has fueled my insatiable perfectionism.
Ann Voskamp writes in One Thousand Gifts (Zondervan, 2010):
"Can I just go back to the moon and the brazen glory? Wind and trees and sky wake me and I'm Peter on the mountaintop, stirring to see The Glory in all its God-radiance, stammering out that it's good to be here; let's build shelters and never depart (Luke 9:28-36). But there's always the descent from the mount." – One Thousand Gifts, p. 124, emphasis mine
We're not meant to stay on the mountaintop—yet.
We're not flawless—yet.
We won't be; not on this side of Christ returning.
But, we are on a journey. And that journey includes hilltops and valleys. Experiencing the highs and lows makes the highs so much more glorious. Seeing the dark (impossible to avoid) and the light reminds us the light shines so much brighter, and it shines regardless of how dark the dark is.
"The light shines in the darkness, and the darkness has not overcome it." – John 1:5
We're on a journey. And every step of that journey is new.
A new beginning. A new chance. A new opportunity to choose right and good and love.
It might be a step forward. It might be a step the side. A step up the mountain, or a step down toward the valley. Or even a step back where we came from.
But, we keep moving. We keep journeying.
"We all want progress. But progress means getting nearer to the place where you want to be. And if you have taken a wrong turning then to go forward does not get you any nearer. If you are on the wrong road progress means doing an about-turn and walking back to the right road and in that case the man who turns back soonest is the most progressive man." – C.S. Lewis
We keep walking into each new day, new moment with a God who is present the whole time.
"Remember not the former things,
 nor consider the things of old.

Behold, I am doing a new thing; 
now it springs forth, do you not perceive it?


I will make a way in the wilderness
 and rivers in the desert." – Isaiah 43:18-19
What new step are you taking in your journey today? If it's been rough traveling for a while, how can you look at your next step with a fresh perspective of new beginnings? Share in the comments below!