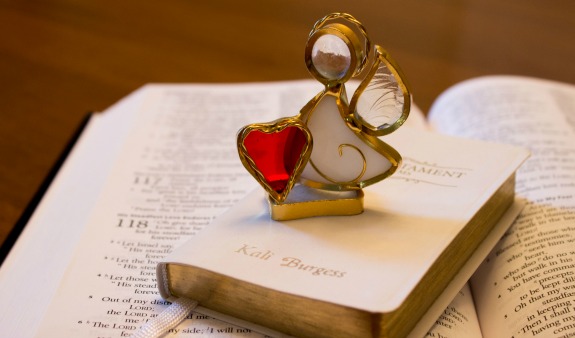 I should be at a birthday party today. Happy 21st!
Instead, I'll be at the cemetery.
If my daughter Kali had lived past her first day, 21 years ago today, and the day after that, and the day after that, I'd have been more eager to live those days, too.
But instead, when she died on Day 1, November 13, after being born several weeks premature and in poor health, a part of me wanted to die as well.
Don't we all die a thousand little deaths in the course of a lifetime? Don't we all collect bruises on our soul?
The author of Psalm 118 certainly had his own little deaths. He knew about prisons and enemies and destruction. He (and the Hebrew people collectively) had been pushed hard.
But at this point he had not been handed all the way over to death (Psalm 118:18).
Others had. Why not him? Why not me? Why not you? Why not yet?
It took me awhile to understand why I was still living without my baby to care for. Resurrection is sometimes instantaneous, but sometimes one slow Spirit-breath at a time.
For me, it was one small (but big) thing at a time—a meal brought to our house as I recovered from the C-section, a sympathy card delivered in the mailbox, a flower left on Kali's grave. And one person at a time—with a gentle hug, a conversation including Kali by name, a knowing look.
Each thing reminded me I had  reason to still be here. I had a husband who loved me (and was grieving too), a 4-yr-old daughter who needed her mommy, and a God determined for me to know joy again.
It is for the living we stay. For the loving. For the Lord.
If you are here reading this—as I am still here writing it—the Lord still has purpose for you here, too.
Even if you've come to the very rim of death, or are in crisis of a little death even today, know He's kept you from falling over the edge for now, for a reason.
You still have . . .
living to do
love to give
praise to proclaim
God can empower a thousand little resurrections over your thousand little deaths.
So even though I am sad today (for me) that Kali is not here in the flesh, I can proclaim with confidence along with the psalmist in Psalm 118: "The Lord is powerful!" (Psalm 118:15 CEV) I have lived to tell what the Lord has done. And ultimately it is always good.
You can do the same. 
Because the Lord is powerful, you are loved by Him today.
Because the Lord is powerful, you can love someone else today.
Because the Lord is powerful, you can say so!
In honor of Kali's resurrection on the other side, I've memorized Psalm 118:15-18 this week and hope to recite it with triumph over her grave later today.
May you find your own special ways this week to sing songs of triumph about the Lord's purpose in your life. "The Lord's right hand has done mighty things!" (Psalm 118:16). That's your shout. That's your victory.
15  From the tents of God's people come shouts of victory: "The LORD is powerful!
16  With his mighty arm the LORD wins victories! The LORD is powerful!"
17  And so my life is safe, and I will live to tell what the LORD has done.
18  He punished me terribly, but he did not let death lay its hands on me.
Psalm 118 (CEV)
Question:
Who could use your love today? How can you applaud God? We'd love to hear in the comments.
 "Why are you still here? To be loved, to love, to praise. http://wp.me/p1Su7F-39A #Psalm118 @DoNotDepart"
click to tweet

"You have lived to tell what the Lord has done. How will you? http://wp.me/p1Su7F-39A #Psalm118 @DoNotDepart"
click to tweet