[NOTE: For Matthew 6 memorizers, get your printable journaling page here]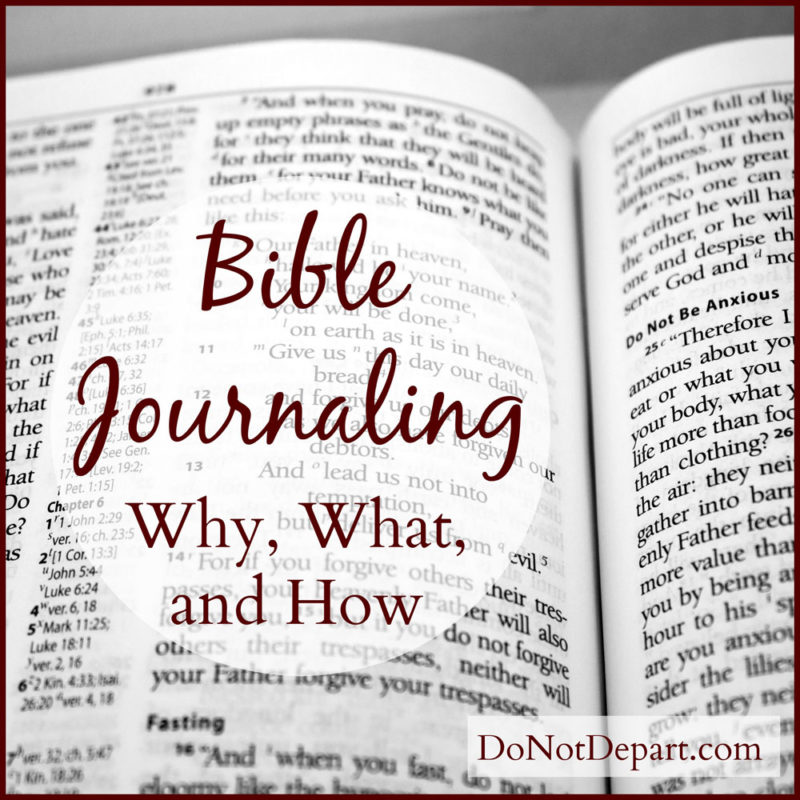 You read the Bible. Pray through some of the Psalms. Maybe memorize favorite verses here and there.
But have you ever tried journaling through the Bible?
Why journal?
Journaling is a spiritual discipline that leaves a tangible footprint.
Writing helps hone your thoughts now, clarifying and capturing the swirling ideas that rumble loose in your head. It's listening and recording how your heart is hearing God's love for you.
But journaling has the added benefit of laying down a record for later, too. Today's lessons can be reused in future circumstances if you're ever doubting God's promises or need reminders of how He's brought you through a tough time or want to celebrate again a victory He won for you.
What is Bible journaling?
At its most basic, journaling is simply writing down what the Spirit whispers to you as you read through scripture. There are no rules or requirements.
However, you have many options to guide you along the way.
• Journaling Bibles
Easy to find online or at bookstores. They have wider margins than a regular Bible, specifically designed to record your notes, prayers, or questions.
[pic]
• Artistic Journaling
A hot trend. [Google "bible journal" and see.] Don't just record words, but create your own art in the margins of your regular Bible or Journaling Bible. You don't have to be an artist to do it. [Read Teri Lynne Underwood, "Three Reasons I Love Using my Journaling Bible"]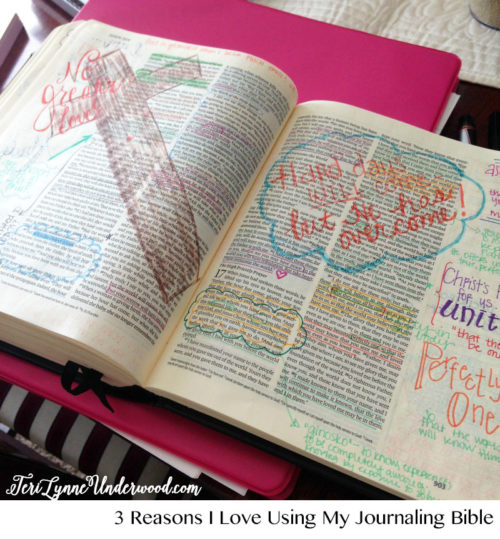 • Digital Journaling
If screens are your preferred medium, keep a digital journal as a regular Word document or via an app created specifically for Bible journaling.
• Notebook
Use a spiral bound notebook, a decorative journal, or loose-leaf paper in a binder to record your Bible reading and thoughts.
How to Bible journal
1. Write side by side in the margins
As you're reading your Bible, jot down any insights or questions directly beside the verse you're on. This has been an effective method for years and still works beautifully for many.
2. Pick one verse from many
I keep two kinds of separate Bible journals. For my daily Bible reading, I use my Kindle before I get out of bed each morning, highlighting verses of interest as I go. Later in the day, I return to the highlighted verses, and choose only one verse out of three chapters to journal about.
I copy that verse by hand on notebook paper, then write a few sentences about why it stood out to me. Perhaps it was reassuring or particularly relevant or maybe even confusing. I then file these pages in my Bible notebook (details on how to make your own Bible notebook). The whole process is quick but meaningful.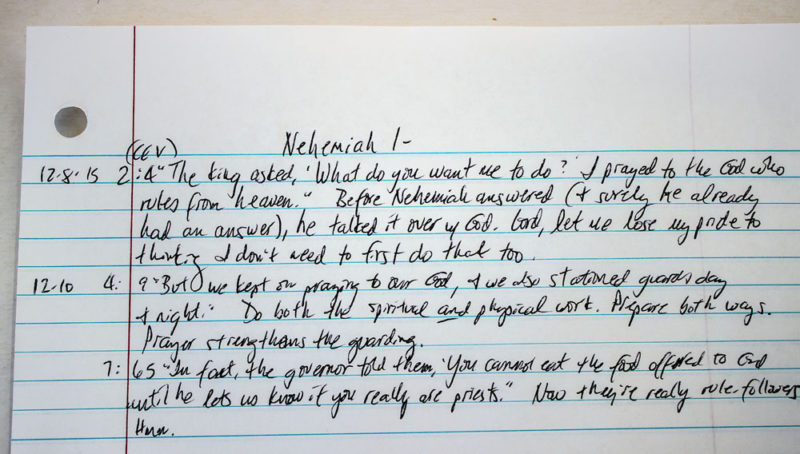 3. Go deeply with only one verse
The second type of journaling I do coincides with what I'm memorizing or studying. Here I look at only one verse for several days, writing on a double-spaced, printed copy of the chapter. On day 1 I write brief notes about the Hebrew or Greek roots using e-Sword.net or StudyLight.org. On day 2 I record anything significant from commentaries about the verse. Day 3 is when I record my own thoughts and experiences with the verse. Again, it doesn't take long, but it creates a record of what God is teaching me.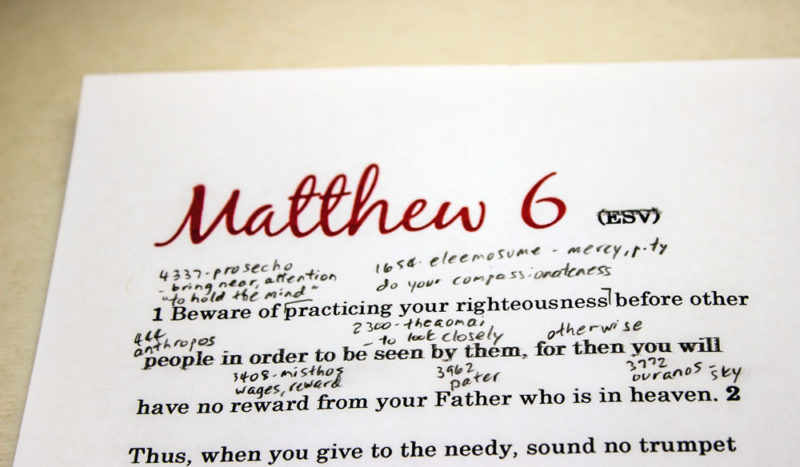 But for you, what's the best way to journal?
The one that you'll use.
And one that you'll occasionally re-read. It's valuable to look back on your own personal history with God alongside the Biblical narrative from ancient times.
Experiment with different methods to find one that works for you. [Pinterest has tons of ideas.] It might include sharing on social media: Use Twitter as a 140-character journal about the verses you're reading. Or blog or Instagram about the study you're doing. Or keep it private: Write a one-line-a-day diary of love notes between you and God, tucked quietly in your sock drawer for no eyes but yours and His.
Journal the lessons you want to remember.
Write down memories of God's goodness you don't want to forget.
Record the insights the Spirit gives you to use.
Your growing relationship with God is worth treasuring.
[Printable "Bible Journaling through Matthew 6" ESV]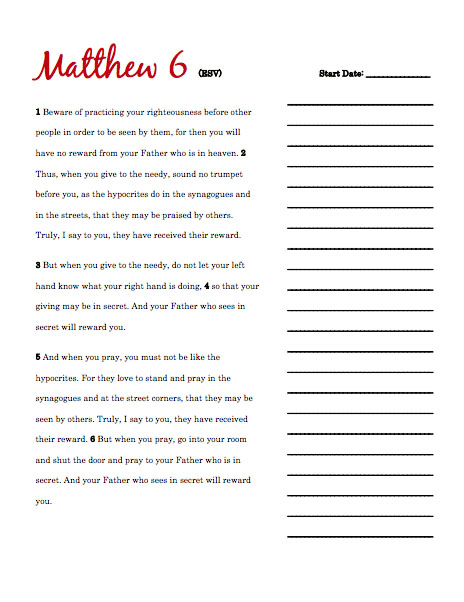 Do you journal? What works for you? We'd love to hear your ideas in the comments.
RELATED LINKS