Call me Nana.
The first question my daughter asked when she and her husband announced the pending arrival of our first grandchild was "What do you want the baby to call you?"
They loved my husband's tongue-in-cheek suggestion for his grandfather name. "Boss" stuck immediately. But every equally cool grandmother name suggestion from me got shot down.
Oh well, any name will be music to my ears when it comes from Micah's mouth.
Being "Nana" is both a great joy and a weighty responsibility. My God-given job of teaching a new generation about Him did not end when my own children left home. Instead it's a generational partnership of parents, grandparents, aunts, uncles, and beyond.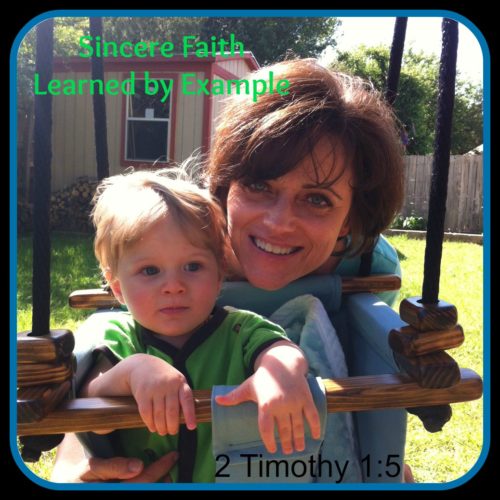 Sincere Faith
Timothy is a great example of this generational faith partnership in action. In his second letter to the young pastor, the apostle Paul describes Timothy's faith this way:
 I have been reminded of your sincere faith, which first lived in your grandmother Lois and in your mother Eunice and, I am persuaded, now lives in you also.

2 Timothy 1:5, NIV
Timothy's faith was not cultural or casual. No hint of hypocrisy or pretense. His faith in Christ defined him. And this "sincere faith" began in his grandmother and continued in his mother. That's what this Nana wants for her grandchildren.
Lois' faith wasn't just talk. Her character and behavior matched what she said she believed. Consistently. Every day. Even when she was stressed. Even when another car cut her off with Timothy in the back seat.
Lois' life proved to Timothy the truth of what she taught him.
Purposeful Teaching
Timothy learned the Scripture from both his mother and grandmother from his beginning. The word Paul uses in 2 Timothy 3:15 to describe Timothy's age can refer to an unborn child, a newborn child, or an infant. These two faithful women did not waste any time teaching Timothy about God.
 But as for you, continue in what you have learned and have become convinced of, because you know those from whom you learned it, and how from infancy you have known the Holy Scriptures, which are able to make you wise for salvation through faith in Christ Jesus. 2 Timothy 3:14-15, NIV
 Lois and Eunice intentionally taught Timothy in the ways of God. They helped him form a habit of faith through constant use and practice. Their teaching encouraged Timothy's salvation, spiritual growth, and equipping for ministry (2 Timothy 3:15-17).
4 Characteristics of Nana Lois' Passed-Down Faith
Lois, the New Testament Nana, is a great example for us. If we want to pass a vibrant legacy of faith to our children and grandchildren, here are a few things we can do:
Insure our own faith is "sincere."
Accept and embrace this God-given responsibility.
Start at day one. It's never too early.
Have a plan. Be purposeful and intentional in teaching them the things of God.
Micah hasn't quite got the hang of "Nana." Maybe I should change my name to "Lois."
What else do you see from Lois' example we can implement in our own lives?