It's devastating to realize we placed our hope in an unworthy person. Eve felt it. Real life Anastasia Steeles feel it in Fifty Shades of Grey-style relationships. The discovery can be painful, terrifying, and maddening. It can leave us wounded, mistrusting, and fearful. In romance, in your family, or in your church? Maybe you've felt it, for a woman's hope follows where her love leads. You believed, you loved, you followed, but you were used.
We all have the potential to let our own desires drive us so we run right over other people. Fear is the tool of a manipulative heart. It's a weapon wielded by abusive lovers, controlling leaders, and insecure parents. If we all have the capacity to sin, is there a fail-safe place to love? Can we find real love?
"Behold, the eye of the LORD is on those who fear Him, On those who hope for His lovingkindness." Psalm 33:18
There is One completely deserving of our hope. He desires reverence, not dread, so He looks for "those who fear Him." He reaches to us with truth, because He is truth itself. There's no manipulation, only grace. His holiness makes Him wholly worthy of our love and, thus, our hope. We can hope in His lovingkindness.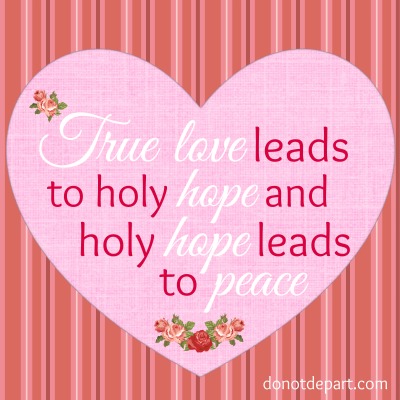 Women worldwide put their hope in the ones they love. If the one they love is wholly worthy, their hope brings life. If they love one who is wholly unworthy, their hope brings death. Aaron Shust wrote a love song with declaration words, that the Lord is the One worthy of our hope. Nothing shakes His worthy ways, even painful circumstances or the unknown. It's safe to love Him. It's safe to hope in Him. To love Him is to hope in Him, and to hope in Him is to know His peace.
My hope is in You, Lord, all the day long.
I won't be shaken by drought or storm.
My hope is in You, Lord,
All the day long I won't be shaken by drought or storm.
A peace that passes understanding is my song,
And I sing my hope is in You, Lord.
My hope is in You, Lord.
My hope is in You, Lord.
Do the loves in your life lead you to hope and peace? Do your passions produce a heart full of hope and a peace-filled perspective? God watches for those who reverence Him, loving Him enough to hope in His authentic lovingkindness.  Does He see you reverencing Him and putting your hope in His fail-safe intents for you? Does He see you making Him the love of your life? If our love is well placed, our hope will follow and fill us with peace.
True love leads to holy hope and holy hope leads to peace.
Would you say you're experiencing a hope-filled outlook and heart of peace?
Have you ever misplaced your love and ended up hopeless and without peace?