"The beginning of strife is like letting out water,
    so quit before the quarrel breaks out." – Proverbs 17:14

"It is not good to be partial to the wicked
    or to deprive the righteous of justice." – Proverbs 18:5

"Listen to advice and accept instruction,
    that you may gain wisdom in the future." – Proverbs 19:20

"Do not say, "I will repay evil";
    wait for the Lord, and he will deliver you." – Proverbs 20:22

"Let another praise you, and not your own mouth;
    a stranger, and not your own lips." – Proverbs 27:2
If you're a recovering perfectionist or a "rule-follower" like me, you might easily look at these verses above and file these away as "more rules to follow."
It's even easier to take those rules and apply them so strictly, someone observing you might not see love, but instead only pressure.
We have rules because we need discipline. But, sometimes I need to remember getting stuck on rules without loving application restricts rather than builds. Pharisaical legalism is graceless.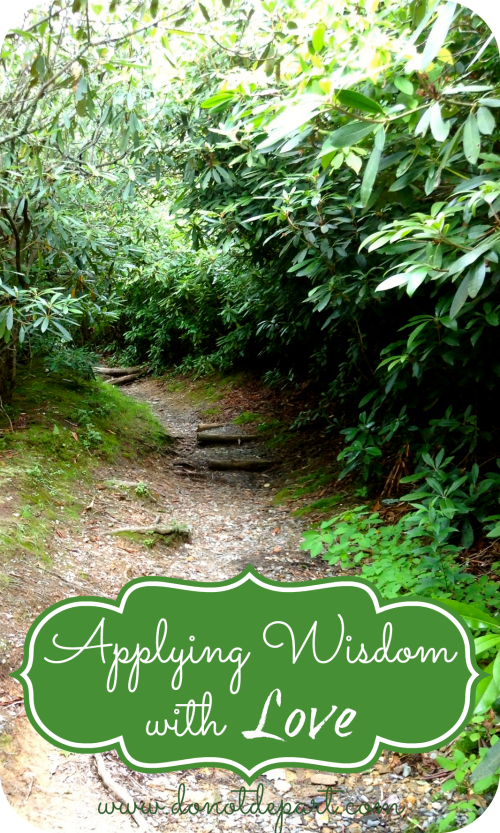 Looking to the Source of Wisdom
So, how do we apply all this wisdom with grace and with love and without building barriers?
By looking back to the Source of wisdom.
The very beginning of Proverbs says, "The fear of the LORD is the beginning of knowledge…" (Proverbs 1:7). Reverent trust of Him. As Lisa said last week, "to be truly wise, we'll seek Him."
I'm a rather stubborn person at times, so I need to pray for open ears and heart to wisdom and understanding (Proverbs 2:2).
Grab hold of steadfast love and faithfulness and don't let go (Proverbs 3:3).
In the Proverbs that issue discipline, look for love. Notice how God offers love through this guidance (Proverbs 3:11-12). How can I offer it in a similar way?
Give freely (Proverbs 3:27-28). Often when I'm not sure how to react, if I stop and think, "how can I love?" I'm pointed in a better direction. There are still those situations where how to love while still protecting, directing, or helping seem very difficult to blend. In those situations, I try to seek wise counsel (Proverbs 12:15).
Do those still sound like more "rules" to follow?
I once heard that the motto of a prison ministry was to "listen, listen, love, love." Those verbs are repeated on purpose. Wisdom Literature asks us to listen first, then love. When we listen first, we are usually better able to discern what's needed for that person or situation, be it discipline, forgiveness, grace, protection, teaching, comfort, or encouragement. And then we can proceed with abundant love.
It takes discipline to live this way, and, really, we need discipline and training to grow (Proverbs 6:23, Proverbs 9:9).
"Hear instruction and be wise,
and do not neglect it." – Proverbs 8:33
I'm praying for us to listen, listen, love, love today with God's heart through us.
How do you apply wisdom without getting stuck on "following the rules?" I'm still growing here myself, so I'd love to hear your thoughts in the comments.