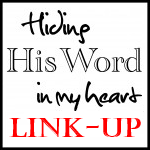 Memorizing scripture doesn't come easily to many of us (including me). But we do it because of the benefits it brings—increased time learning God's words means increased time spent with God's Word.
While attempting to learn a whole chapter of the Bible may seem daunting at first, there are unique advantages as well.
That's what this link-up is about!
If you're new to memorizing scripture, please link a blog post sharing why you want to start now.
If you're a veteran to memorizing individual scriptures or whole chapters, share your blog post(s) about how and why you do it.
Let's help each other by sharing what we know or asking questions we have. Link any new posts you've just written.
But also look through your archives. Are there posts you've written earlier that could help a newbie now? Many first-timers have joined our Ephesians 1 challenge and they'd love to hear your advice, even if you've linked it before.
After you link, spread some encouragement–please visit at least one link before yours.