Today's guest post is from Angela Mackey.
My heart cried out, "No!" The cry bounced around my brain as I tried to make sense of the words I read.
'So Yahweh said to Satan, "Look, all that belongs to him [Job] is in your power. Only do not stretch out your hand against him." So Satan went out from Yahweh's presence."' (Job 1:8)
It seemed so unfair, wrong even, for God to let Satan "stretch out his hand against all that belongs to Job." In fact it was God who – in what sounds like a proud parent moment –brought Job to Satan's attention.
If that type of testing comes to those God brags about, I don't want that type of recognition. Perhaps it would be best to blend in and be an average follower of Christ – a pew-flower…
How do I chew on the book of Job and remain there when there is so much that I don't understand?
I must cling to who I know God is from all of Scripture. I cannot claim God is unfair based on a few verses in Job. Instead I must read Job in light of who God reveals Himself to be in the rest of Scripture. He is just, good, righteous, loving, etc…
I must remember God's ways are not my ways (Isaiah 55:8). In other words, if I could completely understand God's ways then He would not be God. I don't want a god I can completely understand or I would have a weak God unable to save me.
I must remember Job is not perfect. I like perfect heroes and I enjoy taking sides. I read Job and find myself cheering for the man covered in sores, but he is not innocent in his words. I must be aware of when Job's words turn against God.
I must see Satan's limitations. Satan cannot do anything in my life that God has not allowed.
If God approves Satan's activities, all Satan does will work out for my good. Romans 8:28 tells us God works everything together for good for those who love Him. And so even the things Satan does to destroy me and attempt to destroy God's plans for my life will work out for my good.
I must learn with Job my insignificance compared with God. Job says he longs to argue his case before God, but God questions Job. God never answers Job's questions; instead God questions Job. But Job doesn't complain; he repents. Job admits he spoke of things he could not know. In the same way, I must admit that God is God and I am not.
I am slowly learning – with God's help – that I will not understand all of God's ways, but I can trust Him.
What have you found helpful to remember when you study Job?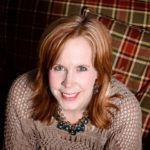 Angela Mackey is passionate about teaching women to renew their minds through God's word so that they may live transformed lives. Angela is a writer, speaker, nurse, and stay-at-home mom who openly shares her struggle with infertility. You can connect with her on her blog at www.rethinkingmythinking.com. She is also on Twitter and Facebook.