What do you do with . . .
the sermon notes you took last Sunday?
the handouts from your ladies' group book study at church?
the list of memory verses you're hiding in your heart?
If you want to collect all those scattered papers and capture your insights in one place, we're offering free printables all month to help you create your own Bible notebook.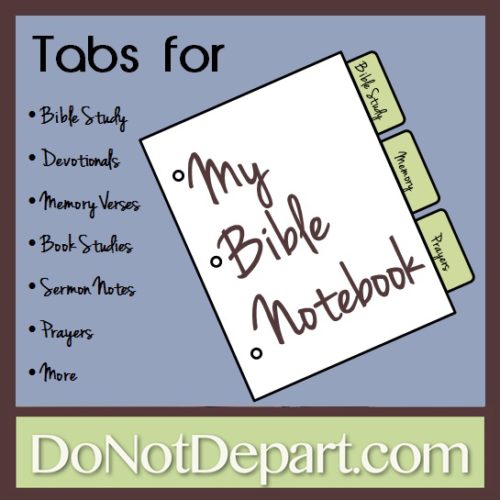 Getting organized isn't as difficult as you might think, and is less time-consuming in the long run than chasing down paper clutter or forgetting lessons you want to remember.
Here are 4 easy first steps:
Print this page of tabs (three blank tabs included)
Cut on the solid lines; fold on the dotted lines (makes the category visible from front and back)
Insert tabs into plastic tab dividers or tape onto a piece of paper (use only the ones you need)
Put all into a binder with loose-leaf notebook paper (or decorative paper if you'd prefer)
Then start collecting! Just by setting up the notebook, you've conquered one of the greatest hindrances to getting organized.
God wants us to remember and worship Him for what He's done and is currently doing. Being organized makes that easier, as well as helps us serve others more effectively by accessing scriptures we've learned from.
I will remember the deeds of the LORD; yes, I will remember your wonders of old. I will ponder all your work, and meditate on your mighty deeds.
Psalm 77:11-12
Click here to download your free printable tabs sheet.
What categories would you include in a notebook? Please leave your suggestions here.