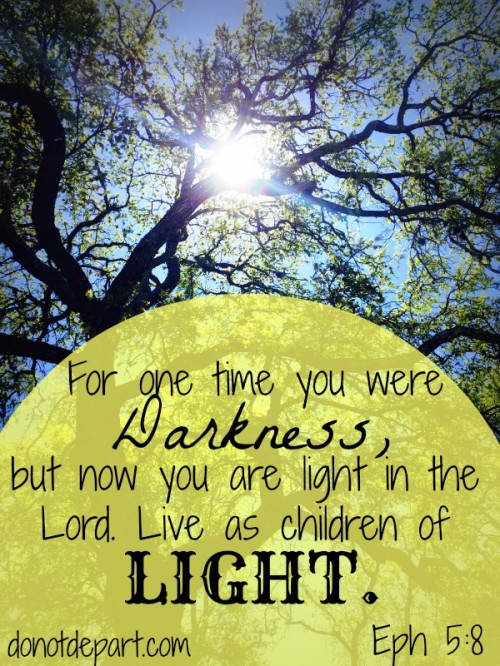 Father, help us today to boldly live as children of light! Let us shine the light of Christ in a dark world and share your love with those around us.
8for at one time you were darkness, but now you are light in the Lord. Walk as children of light 9(for the fruit of light is found in all that is good and right and true), 10and try to discern what is pleasing to the Lord. 11Take no part in the unfruitful works of darkness, but instead expose them. 12For it is shameful even to speak of the things that they do in secret. 13But when anything is exposed by the light, it becomes visible, 14for anything that becomes visible is light. Therefore it says,

"Awake, O sleeper,
and arise from the dead,
and Christ will shine on you." – Eph 5:8-14
Every day this month the Do Not Depart team will be posting a scripture graphic that you can use to spread the Word of God. Share it on social media, print it out and write someone a letter, email it to someone who needs encouragement.
You are free to share our image with Eph 5:8 above. If you have questions about how to download images, just ask in the comments (be sure to tell us what type of computer/device you are using.)