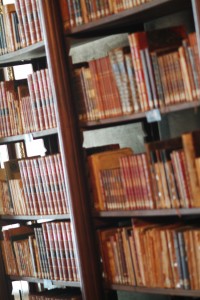 Ten years ago when I started seminary, if I wanted to research a Bible passage, I went to the library. There was an entire section on the first floor with row after row of commentaries. I would grab as many as I could carry, find a quiet corner, and get to work on a passage.
But now I live a few hundred miles away from my beloved seminary library. So I've started building my own Bible study library. An important part of my personal library is commentaries, which are detailed books about a specific book or section of Scripture. They help you understand the context of the passage, look at the historical events at that time, understand the genre of literature the passage represents, and cross-reference parallel and/or complementary passages.
If you want to start a collection of commentaries, I would start with larger commentaries, like the Women's Evangelical Commentary for NT and OT. Then, buy specific volumes on books of the Bible you like, often teach from, or want more help understanding. The first two commentaries I bought were Hebrews (from the MacArthur commentary series) and Leviticus (from the New American Commentary set).
There are also free commentary resources:
Do you find Bible commentaries useful? Which books of the Bible would you start with, if building your own Bible study library?