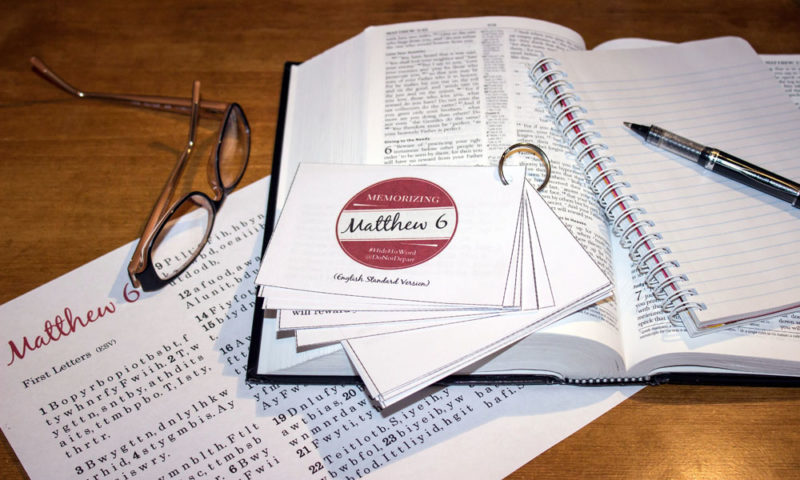 Whether you signed up to memorize Matthew 6 or just to read along, we want to equip you to stay in the words of the Word, to take them wherever you go to give you pure thoughts to think on, and to provide you with words to talk to God about.
Choose your translation of choice, then download the accompanying set of pages to create your own compact guide to memorizing Matthew 6.
Cut out the 3×5 cards, then staple or hole-punch and bind all the cards together. Perhaps print an extra set to place around your house or office or to keep in your purse.
Print the 2 full-size pages—chapter-at-a-glance reviews—and put them wherever you will see them frequently (several of us laminate them or tape them in Ziploc bags in our showers!).
Put the audio on your phone or mp3 player or computer to listen to the chapter frequently while you're driving or doing chores. Or create your own recording by reading the chapter aloud yourself.
But remember:
Your success won't be measured in how many words you can or can't recite at the end of this challenge. We don't do this to be "heard for our many words," or to "heap up empty phrases," but to be "rewarded by our Father in heaven who sees in secret" our desire to honor Him.
COMPACT GUIDE TO MEMORIZING MATTHEW 6:
For extra community, join our Hide His Word Facebook group. Post pictures on Instagram with #Matthew6 and #HideHisWord. Practice the verses using Scripture Typer. Share tweets using #Matthew6 and #HideHisWord.
If you haven't signed up yet, you still can! Sign up here to receive the weekly Matthew 6 emails and tips during the months that we're memorizing.
Why do you want to memorize and/or read Matthew 6? How will you prepare for it? Please join in the discussion.