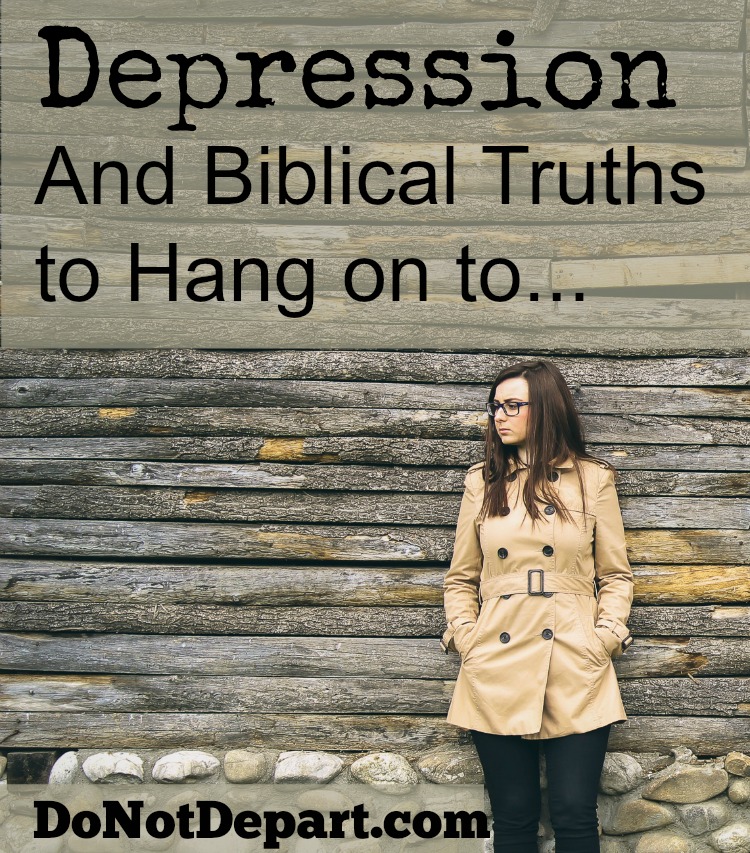 One of the godliest women I've ever met came up to me after the church service was over and asked for prayer. With tears in her eyes and a quaver in her voice she said, "Will you please pray for me? I'm suffering terribly from depression." She started to cry and my heart broke for her.
I was shocked.
From the outside there was little difference. Only her countenance appeared changed… heavy and despondent.  Inside, something powerful had washed over her and life appeared bleak and hopeless. She knew better than to believe it, but the pain was still there and still overwhelmed her.
Eventually, the fog lifted and life returned to normal, but it wasn't an easy journey.
Depression. An ugly condition that affects both women and men (but almost twice as many women as men), and reaches across the board to affect all ages and races. As Christians, we should know that depression is not a result of lacking faith. Need examples? Elijah, King David, Martin Luther, Charles Spurgeon, David Brainerd (missionary), Ruth Graham (Billy Graham's daughter), and author Randy Alcorn.
It can affect any of us. Whether we're the ones trying to make it through to the next moment or the ones praying, consoling, and watching a hurting family member or friend there's really not much escaping the reaches of this beast.
"The iron bolt . . . mysteriously fastens the door of hope and holds our spirits in gloomy prison." (Spurgeon, Lectures to my Students, p24)
This month at DND we're going to take a look at depression. But rather than coming at this topic from a medical or psychological perspective, we'll be approaching depression (and its counterpart, anxiety) from a theological standpoint.
We'll look at things like:
What is true about God even when I'm depressed or anxious?
What are some truths I can hang on to when gloom hits?
From what verses can I draw hope and be reassured?
What truths and encouragement can I offer my loved one when they're hurting?
We hope you'll join us as we seek comfort and strength from our Great and Awesome God and His precious words of hope.
"The LORD is near to the brokenhearted
and saves the crushed in spirit.

Many are the afflictions of the righteous,
but the LORD delivers him out of them all." (Psa 34:18,19)
{If you or someone you know is having suicidal thoughts, please contact the National Suicide Prevention Lifeline. If you are looking for a Christian ministry devoted to presenting hope and finding help for people struggling with depression, addiction, self-injury, and suicide, check out TWLOHA (ToWriteLoveOnHerArms).}