I heard it for the first time during a funeral for a godly mother of two young children. An 18-wheeler ran right over her suburban in heavy city highway traffic. An entire family forever changed in an instant.
It wasn't just the words of "Praise You in the Storm" that impacted me. It was knowing that the family had picked the song. In the midst of overwhelming grief and life-altering circumstances they chose to praise God and stand on His truth no matter how things looked – or felt.
Here's the chorus of the song by Casting Crowns (find the full lyrics here):
And I'll praise You in this storm
And I will lift my hands
For You are who You are
No matter where I am
And every tear I've cried
You hold in Your hand
You never left my side
And though my heart is torn
I will praise You in this storm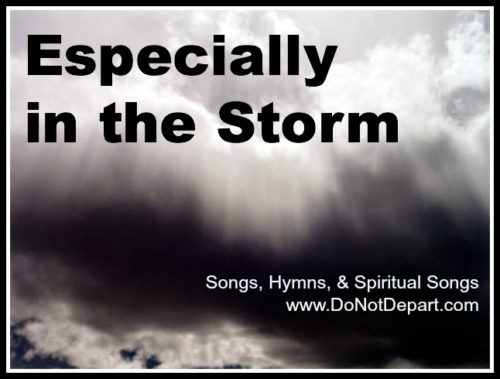 The truth reflected in "Praise You in the Storm" is very biblical, though it doesn't come naturally – or easy – for many of us. When circumstances are dire, when the way is difficult, and even the future looks dark, we can praise God. We can stand firm on the truth of Who God is, even when our emotions tell us He doesn't care or He has forgotten us.
God lovingly highlighted this truth for me a couple of years ago when pain hit our own family. Believer, sometimes, on the darkest days, we must simply choose to believe that God is there and working for our good. When all we see is chaos and all we feel is hopelessness, we can cling to what we know to be true about God.
Along with the prophet Habakkuk we can declare:
Even though the fig trees have no blossoms, and there are no grapes on the vine; even though the olive crop fails, and the fields lie empty and barren; even though the flocks die in the fields, and the cattle barns are empty, yet I will rejoice in the LORD! I will be joyful in the God of my salvation. The Sovereign LORD is my strength! He will make me as surefooted as a deer and bring me safely over the mountains. Habakkuk 3:17-19, NLT
God is faithful and trustworthy all the time. Not just when everyone is healthy and there's money in the bank. He is faithful and trustworthy in the midst of the storm. Especially in the storm.
Tweetables:
"God is faithful and trustworthy all the time. Especially in the storm." http://ow.ly/vyjC7 @DoNotDepart  Click to Tweet
"When all we see is chaos we can cling to what we know to be true about God." http://ow.ly/vyjC7 @DoNotDepart Click to Tweet