Disclosure: Some affiliate links are included below. See the bookstore page for full disclosure. Thank you for supporting this site!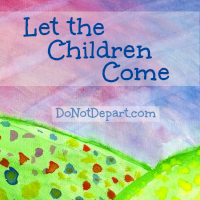 How many of you parents have a child with special needs? What challenges arise in teaching your children about your faith?
Back in May, we discussed 4 tips for including kids with special needs in family Bible study time (and why to include all kids). Today, we want to offer a few resources you can use.
Bible-Focused Resources for Special Needs Families
Grapevine Studies provide family Bible studies that are very focused on Scripture. Grapevine's unique twist focuses on the kids drawing stick figures to add in a tactile component to learning Bible characters and events. These studies work well for families and for Sunday school classes. (I reviewed two of their studies on my personal blog, including some modifications we implemented to address my son's special needs.)
Not Alone provides encouragement in the faith for special needs families.
Jennifer Janes writes on special needs parenting often, including this great 10-days series on encouragement for parents of kids with special needs.
Rachel Wojnarowski writes about special needs and faith on her blog, like this post with seven ways churches can love on families with special needs.
(in)able and (in)cluded is a community of special needs families formed through (in)courage. Visit for great encouragement and meet other families who can relate to your challenges.
We also love Seeds Family Worship songs for both typical-developing kids and kids with special needs.
Do you know someone with a child with special needs but don't have experience with special needs yourself? Read this post from Beautiful in His Time for ideas on how to encourage a special needs mom.
Our good friend and former team writer, Sandra Peoples, and her husband recently released a new Bible study for parents of kids with special needs. Held: Learning to Live in God's Grip is geared towards special needs families, but I would recommend anyone who is around kids to with to take a look at this book. This Bible study reminds parents that God is in control, even (and especially) in those situations where we have no control. Lee and Sandra discuss specific Bible passages and how they relate to special needs families asking how? and why? and what do we do? They include a chapter on how to interact with acquaintances and family members who just don't understand your unique situation, handling situations together in your marriage, facing fear, and continuing to grow in your faith through numerous challenges.
Sandra and Lee are also working on a series of videos to go along with the book! Stay tuned to Sandra's site for more information. Find purchasing information here.
Sandra is kindly offering one copy of Held for one of our readers! Enter through the Rafflecopter widget below. This giveaway is open until the end of the day (EST) on Sunday, November 24th, 2013.
a Rafflecopter giveaway
If you have a child with special needs, what resources are you looking for that you haven't found yet? What's one of your favorite sites for encouragement in the faith?