"There's one more thing," the plumber said, "Do you know where your main water cut off is?" Indicted by his simple question, I wondered how I could have ignored something so basic, especially when we've had a major "water episode."

"What would you do if you needed to turn off your water?" He asked.

"Call you? Call my husband? Call my neighbor?" I smiled. He wasn't charmed.

"I'm going to show you where your water source is. You don't want to wait until you need it to find out where it is."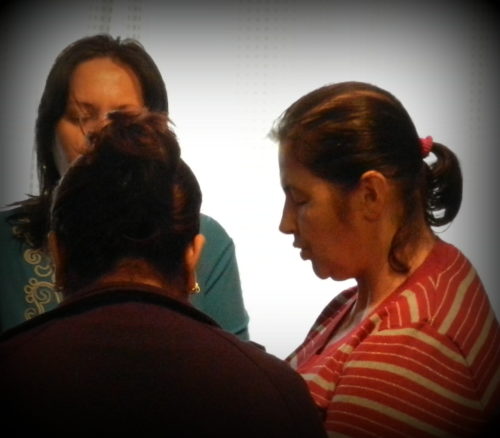 If you haven't cultivated prayer's knee-worn path before a flood rushes in, now is a good time to begin. We don't want to wait until we need it to find out where it is. Theologian Armin Gesswein said, "God's throne is the busiest place in all the universe because everything centers there. Yet, the lack of prayer on earth keeps it from operating at full capacity." Most of us say we're too busy to pray. I was once too busy to find the water source in our house, and I paid a high price.
Jesus Prayed
Jesus himself was a man of prayer, expressing dependence on his Father and determination to do His will. Even now, "he always lives to make intercession for them," (Hebrews 7:25b) pleading our case. The Father Himself is the source of prayer, a gift to mankind as an invitation for two-way communication. With all of our technology, it's better than any man-made version. Scripture teaches us the language of prayer, teaching our independent mouths to speak heart words of dependence. Though seated beside His Father, Jesus prays on.
Followers Prayed
Simple men who followed Jesus up close and personal, and knew the work of prayer, still asked to be taught how to pray (Luke 11:1). Jesus' prayer pattern hinged on desiring His Father's will. Since God's word reveals His will, prayer needs the fodder of truth to drive the faith behind it. The Bible is our book of prayer.
The Church Prayed
When believers first gathered as the Church, they began as a praying Church. Vulnerable in a contra-God world, "All these with one accord were devoting themselves to prayer." (Acts 1:14a). They were sure of their need to cry out in dependence on God. If the people of God are to experience faith, intimacy, and power in an anti-God world, they must be people of prayer. To claim we are too busy to pray is to turn away from our waiting Lord. Prayer is not a piece of Body life; prayer is the foundation of Body life.
When I pray
Prayer strengthens faith. We call on God to fulfill promises He has already made.
Prayer nurtures intimacy. We expose ourselves to God and He makes Himself personally known.
Prayer inspires power. We gain boldness by focusing on the person of God instead of ourselves.
Two-way communication with God isn't only for moments of helplessness, though Abba Father welcomes us near then. He invites us to call on Him as long as we live, to live in sweet, close communion with Him. To cultivate the discipline of prayer is to work at knowing His will, listening to Him, and opening our lives to Him.
"I love the LORD, because he has heard my voice and my pleas for mercy. Because he inclined his ear to me, therefore I will call on him as long as I live" (Ps. 116:1-2).
If you want to take a step on the knee-worn prayer path, check out our tools like Prayer Calendars or  A Prayer Album for Women on the Go.
Is there a tool or habit you've found to help you keep prayer as part of your daily life?