My children pick up books throughout our days together and bring them to me to read or "read" themselves. Yesterday morning, I even found my older child "reading" to my younger one on the floor for the first time! Melts my momma heart.
It's pretty easy to motivate them to cuddle and read together. (I pray, pray, pray this easy motivation remains and grows for a long time.) We enjoy quality time when we do so, they learn (hey, I still learn from their books, too), and we're spending time wisely.
Experts say kids learn to love reading when families read together and when they see their parents reading for fun on their own. Just witnessing me reading encourages my kids to continue reading.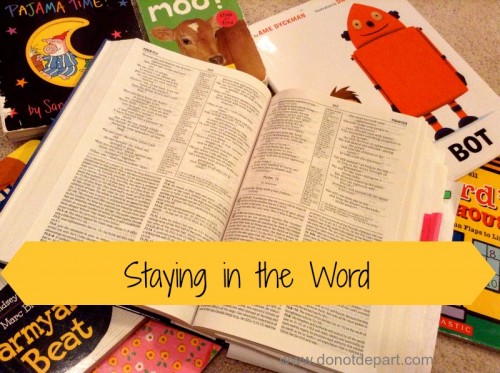 I want them to observe me captivated and changed from reading God's Word and eager to pick up the Bible like (or more than) I am any other of my favorite reads.
"Keep this Book of the Law always on your lips; meditate on it day and night, so that you may be careful to do everything written in it." (Joshua 1:8 – NIV)
Do Not Depart is founded upon the above verse. We need to stay in His Word, for doing so brings drastic results on our hearts and perspectives. Why, specifically?
Why We Read the Bible
Like Ann Voskamp said, "We read the Bible to really live…" God's Word is living, and I only continue to see that truth more and more as years progress.
He formed us by His words (Genesis 1:26). It seems His words hold mighty power and importance.
His Word encourages community (Hebrews 10:24-25), discussion, and growth.
Reading the Word spurs action (James 1:22). His Words and the words of those who followed Him inspire us and draw us closer to the heart of God through revealing His active love.
His Word offers wisdom (James 3:17-18).
God's Word is trustworthy, alive, and powerful.
Christ is the Word become flesh (John 1:14). A pretty good reason to linger in His Word, eh?
How to Stay in His Word
Deuteronomy 6:6-9 is one of my go-to verses on the "how" part of staying in His Word. Talk about the verses, see the verses, read the verses, act on the verses.
As any discipline does, it takes training to making reading the Bible a habit.
Read and think every day. If it's one book, one chapter, or one verse—just read. And pray for an open heart to His Word for you that day. Whenever I approach Bible reading time with a prayer and willingness, I see so much more of what He wants me to see.
A Few More Resources to Help You Stay in the Word
So, go ahead. Cuddle up with your bible. And see what amazing love you find from lingering in His Word.
Why do you read God's Word? What are your favorite tips for staying in His Word? We love hearing from you.