I was a young adult and I was afraid.
Depressed and overwhelmed by a frightening world, I thought I believed in God but I didn't really know who He was.
Then mercy fell. I began to read my bible. Not just read it but study it. Mature believers came alongside and taught me how to read God's Word as more than a bunch of stories and rules. I feasted on the Word!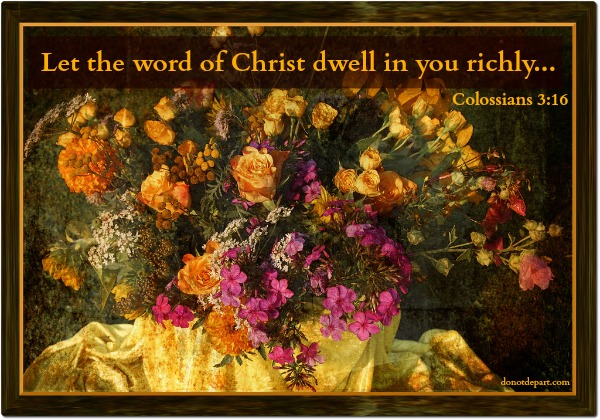 And it changed me. It was in the Word of God that I was really introduced to Jesus.
Let the word of Christ dwell in you richly, teaching and admonishing one another in all wisdom, singing psalms and hymns and spiritual songs, with thankfulness in your hearts to God. Colossians 3:16
There are so many reasons to be thankful for the scriptures… the Word of God. Today I am sharing just a few of the reasons I am thankful that God gave us His Word.
God's Word is trustworthy
People fail us. People deceive.
But God's word is truth… we can rely on it.
And now, O Lord God, you are God, and your words are true, and you have promised this good thing to your servant. 2 Samuel 7:28

Not one word of all the good promises that the Lord had made to the house of Israel had failed; all came to pass. Joshua 21:45

Sanctify them in the truth; your word is truth. John 17:17
God's Word is alive
For the word of God is living and active, sharper than any two-edged sword, piercing to the division of soul and of spirit, of joints and of marrow, and discerning the thoughts and intentions of the heart. Hebrews 4:12
I often find myself reading a passage of scripture which directly addresses a situation with which I am struggling right at that moment. A few years later I can read that same passage and find a nuance I had missed that is perfect for my new struggle.
The scriptures are not dead, but living and dynamic, and applicable to every aspect of our lives, now and always.
And Jesus Himself is the Word made flesh, made alive!
In the beginning was the Word, and the Word was with God, and the Word was God. John 1:1
God's Word is powerful
God's Word has a power that is supernatural.  It is the Sword of the Spirit, the only offensive piece of our spiritual armor (Ephesians 6:13-17).
…and take the helmet of salvation, and the sword of the Spirit, which is the word of God… Ephesians 6:17
In fact, when Jesus was tempted in the desert (Matthew 4:1-11), He responded to Satan with scripture. The Word of God is sufficient to thwart the enemy.
God speaks to us through His Word
We speak to God when we pray to Him, and He speaks to us through His Word.
All Scripture is breathed out by God and profitable for teaching, for reproof, for correction, and for training in righteousness, that the man of God may be competent, equipped for every good work. 2 Timothy 3:16-17
Prayer is not a one-sided conversation. We can find God's will for our lives right in the pages of our bibles.
God's Word changes lives
I could write a book on the ways my life today is different from my life twenty years ago. And the single biggest change is that I began reading the Word of God and trying to live my life according to it.
It is God who is the power behind that, it is He who has given me the ability to change. But it was through His Word that I understood the need for the change, and discovered the direction I was to go.
Everyone then who hears these words of mine and does them will be like a wise man who built his house on the rock. Matthew 7:24

Therefore put away all filthiness and rampant wickedness and receive with meekness the implanted word, which is able to save your souls. But be doers of the word, and not hearers only, deceiving yourselves. For if anyone is a hearer of the word and not a doer, he is like a man who looks intently at his natural face in a mirror. For he looks at himself and goes away and at once forgets what he was like. But the one who looks into the perfect law, the law of liberty, and perseveres, being no hearer who forgets but a doer who acts, he will be blessed in his doing. James 1:21-25
This is not passive. Just reading the Word will have an impact, but the real change comes when we are not just hearers but doers.
My daughter recently asked me how she could become a good mother. My advice to her? Grow in a godliness, and stay in the Word!
Would you share with us why you are thankful for God's Word? How has reading and living according to His Word changed you? Please leave a comment.