I want to be a good friend.
But sometimes I have a struggle; I'm naturally introverted and a bit of a homebody. I'm most in my comfort zone hanging out with my family, or on the couch with a good book in my hand– or even typing away behind a keyboard.
It stretches me to reach out to friends sometimes. I truly love people, so I'm usually quite happy once I do it.  But my homebody-self can feel uncomfortable in the going and in the doing.
Yet, I'm also reminded of the importance of investing into deep, lasting connections with people that are dear to me.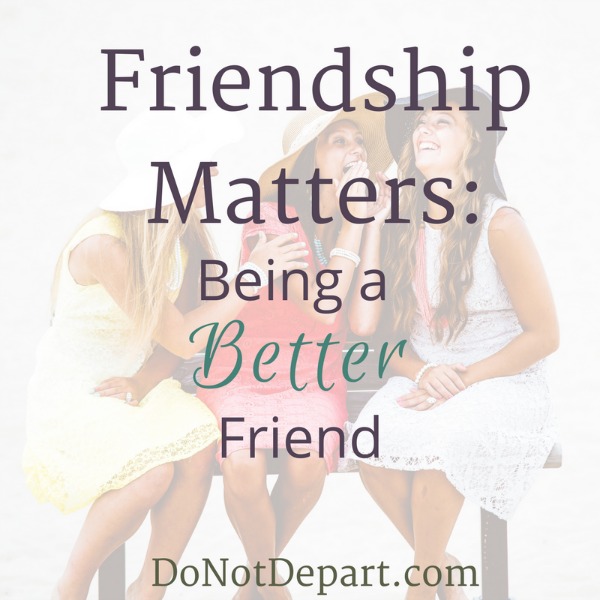 I recently read an excellent article written by a past contributor to DoNotDepart titled 11 Biblical Principles for Becoming a Better Friend. Kathy Howard's words challenged me to really examine my heart for areas where I need work. She encouraged me to better develop my role as friend and reminded me that being a good friend is made up of lots of components, and that God cares about what kind of friend I am. 
I want to be a good friend. Better yet, I want to be a Christlike friend. And I know that means stretching out of some comfort zones.

For me, that means reaching out. It may look different for you.
What does being a good friend really look like? What does the Bible have to say about it and how can we apply that to our friendships?
"This is my commandment, that you love one another as I have loved you. Greater love has no one than this, that someone lay down his life for his friends." (John 15:12-13)
It's spring here in the USA, and a great time to focus on new life and growth. Plus, we celebrate the miracle of Jesus' resurrection in April. (Yay!) So, this month at DoNotDepart, we'll be looking into the topic of friendship and challenging ourselves to be honest and willing to grow. Let's let God breathe new life into friendships that need it. Along the way, we'll share tools and resources that we've found help us be better friends.
And we hope that you'll share with us, too. Feel free to comment on any of our posts here, or on our Instagram, Facebook, or Twitter accounts. Let's grow together, encourage one another, and show the world what true friendship looks like.
What are your comfort zones? How does reaching past them make a difference in your friendships? Share in the comments.
Ali