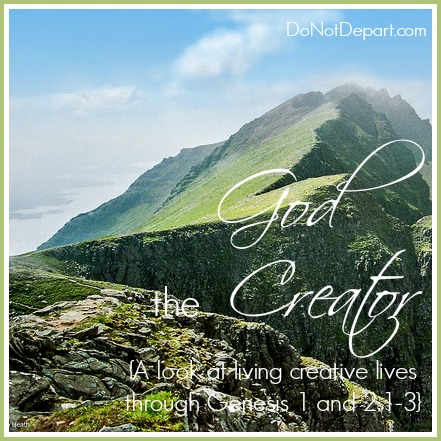 "In the beginning, God created…" (Genesis 1:1)
Aren't those words just beautiful? God created. He literally created something from nothing, and from that nothing (that He turned into something) came our big (yet small), beautiful world.
He created the heavens and the earth (Genesis 1:1-2),
light out of dark (Genesis 1:3-5),
sky and sea and land (Genesis 1:6-10),
plants and trees (Genesis 1:11-13),
sun and stars (and with it, day and night) (Genesis 1:14-19),
creatures in the sky, sea, and on land (Genesis 1:20-25),
and then …
What did He do then?
He created humans, in His likeness, in His own image (Genesis 1:26-27).
God the Creator created us. He created us to trust, to praise, to love. He created us to create, in His likeness, in that praise and love.
That's what we'll focus on this November, in this season of gratitude. We are created to live creative lives. And, just like all of our other skills and personalities, our creative talents don't always look the same as our neighbor's.
Some of us create with words, some with pictures, some with food, some with service, some with leadership, and more.
But we all have this need to create in common, and this call to create in love and in gratitude because of love.
Join us this month as we read Genesis 1 and Genesis 2:1-3 together and learn more about God the Creator and what that means for our own creative lives as we follow Him.
How do you find yourself often creating?
Extra study until the next post:
Read through Genesis 1 and Genesis 2:1-3 once, or even twice, this week.
What ways do you find yourself creating in love throughout the week?
Write or say (or draw or sing, etc!) a short prayer of thanks to God for creating us and gifting us with creativity.
Read through posts from our archive on the Marvelous Creator that looked at other verses and instances where we see God as creative.