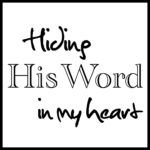 How's your memory?
Are there any Bible verses you're trying to store there? We'd love to hear about your experience!
Please link your blog posts or videos here. To our John 1 memorizers, now would be a great time to do a vlog, hint, hint.
If you're not currently memorizing anything, please consider visiting a link or two to encourage those who are. We'll be here all month. Thanks!