I've never been a particularly brave individual. I can count on one hand the number of somewhat reckless things I have done in my lifetime. (And I really do mean somewhat reckless. One of the things that makes the list is riding a roller coaster, if that tells you anything about me).
Being afraid comes much more naturally to me than being brave. Worry comes much more naturally than peace.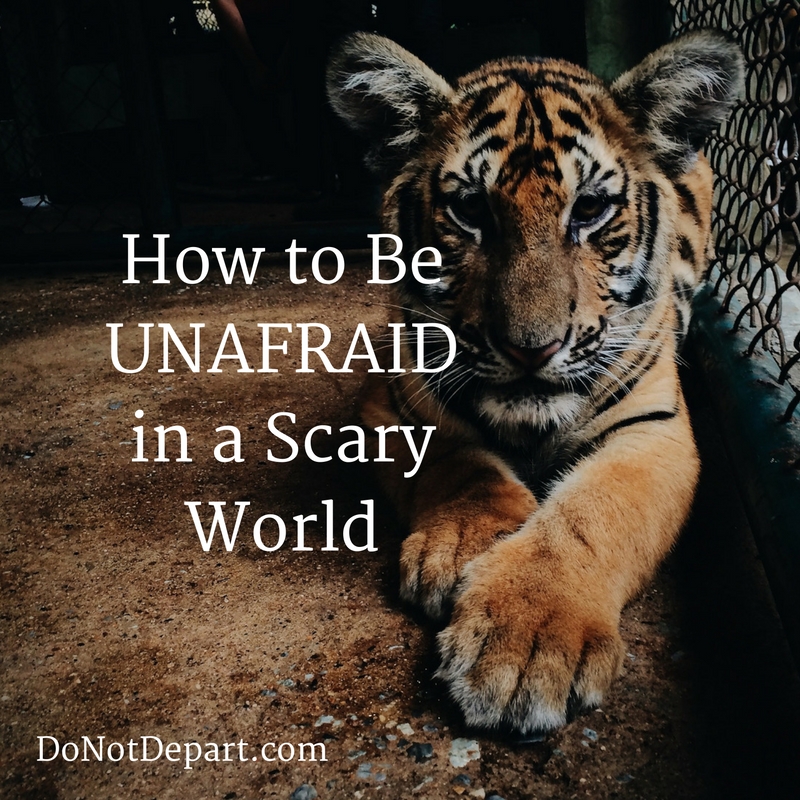 Maybe you can relate.
A friend of mine told me a story once about how she used to be terrified as a child that she would be home by herself and choke on something. She was so afraid, in fact, that she recorded herself saying her name and address along with this message. "This is pre-recorded message. I'm choking and need medical assistance."
I laughed at my friend when she told me the story, but the truth is, I actually have this same fear. What if I choke while by myself? What if something happens to me and I'm unable to call 911 for assistance?
Fear is something with which a lot of us struggle. 
Even though we claim to trust Jesus with our lives, we don't always live like it. 
This is especially the case for those of us who have been disappointed in the past. Maybe you've witnessed a loved one pass away. Maybe you've prayed and prayed for God to heal someone and instead watched that person slip away from you.
When you realize that being a Christian doesn't give you a "get out of jail free" card, it's easy to grow fearful. When you understand firsthand that God doesn't always fix things for his people, it's easy to wonder, "What is going to happen next? If God didn't prevent X, what makes me think he will prevent Y?"
Fear might be common, but that doesn't mean it's okay to ignore it and allow it to grow.
In fact, the Bible is abundantly clear that we aren't meant to live in fear. Here are just a few of the many verses about fear and worry.
What the Bible Says About Fear and Worry:
Psalm 27:1: "The Lord is my light and my salvation— whom shall I fear? The Lord is the stronghold of my life—of whom shall I be afraid?" (NIV)
Joshua 1:9: "Have I not commanded you? Be strong and courageous. Do not be afraid; do not be discouraged, for the Lord your God will be with you wherever you go." (NIV)
Isaiah 41:10: "So do not fear, for I am with you; do not be dismayed, for I am your God. I will strengthen you and help you; I will uphold you with my righteous right hand." (NIV)
1 Peter 5:7: "Cast all your anxiety on him because he cares for you." (NIV)
Romans 8:15: "The Spirit you received does not make you slaves, so that you live in fear again;rather, the Spirit you received brought about your adoption to sonship. And by him we cry, "Abba, Father." (NIV)
Luke 12:22-24: "Then Jesus said to his disciples: 'Therefore I tell you, do not worry about your life, what you will eat; or about your body, what you will wear. For life is more than food, and the body more than clothes. Consider the ravens: They do not sow or reap, they have no storeroom or barn; yet God feeds them. And how much more valuable you are than birds! Who of you by worrying can add a single hour to your life?" (NIV)
Philippians 4:6: "Do not be anxious about anything, but in every situation, by prayer and petition, with thanksgiving, present your requests to God." (NIV)
Psalm 56:3-4: "But when I am afraid, I will put my trust in you. I praise God for what he has promised. I trust in God, so why should I be afraid? What can mere mortals do to me?" (NLT)
Psalm 23:4: "Even though I walk through the darkest valley, I will fear no evil, for you are with me; your rod and your staff, they comfort me." (NIV)
2 Timothy 1:7: "For God has not given us a spirit of fear and timidity, but of power, love, and self-discipline." (NLT)
1 John 4:18: "There is no fear in love. But perfect love drives out fear, because fear has to do with punishment. The one who fears is not made perfect in love." (NIV)
So how can we do it? How can we live unafraid in a scary world?
All this month, we've been talking about renewing our minds, allowing Jesus to take control of your thoughts instead of allowing your thoughts to control you.
The truth is, it's hard to be unafraid!
Here are a few suggestions to help:
How to Be Unafraid in a Scary World:
Meditate on Scriptures about being brave. Choose a few from the list above and commit them to memory. Whenever you feel fear creeping in, repeat one of  these verses.
Pray often! Ask God to help you be unafraid.
Maintain your perspective. Yes, there are scary things in this world, and God didn't promise us we would never encounter them. BUT, He did promise us an eternal home and that He would be with us in whatever we encounter.
Beware of what you allow to fill your mind. If you are afraid because of shows you have watched recently or news reports you have allowed into your home, shut off the tv. You don't HAVE to watch the news if it upsets you.
Surround yourself with hopeful people. You will become like who you are around most.
I want to hear from you. What is your favorite Bible verse about fear or worry? Are there any tips you would add to this list?