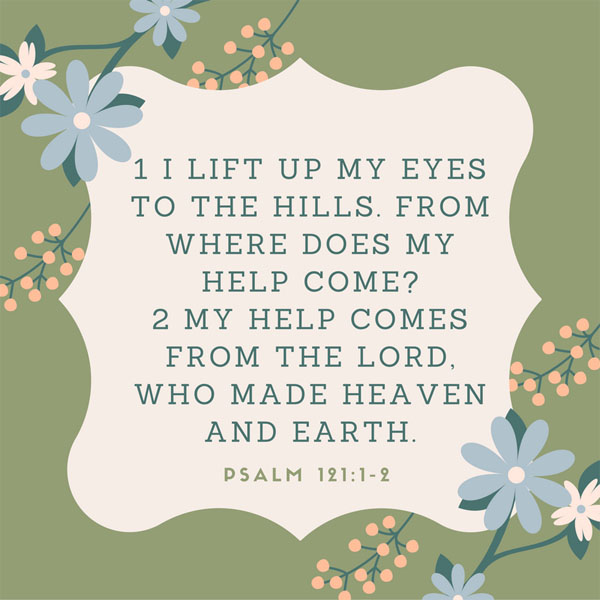 This week we begin memorizing Psalm 121. [Sign up now to receive resource links and weekly email reminders.] But even if you're not memorizing, join us in reading along every Monday for six weeks.
We don't know who wrote this Psalm, when, or on what occasion. But we can understand why:
To build confidence in the Lord's care.
The psalm can be broken into four stanzas, with two verses in each stanza. This week we learn the first stanza.
Verse 1 asks a question; verse 2 answers it.
Who will help me? The Lord will.
"I lift up my eyes to the hills. From where does my help come?
My help comes from the LORD, who made heaven and earth."
Psalm 121:1-2
The technical term for the poetic structure used here is a chiasm (pronounced ky′-az-um). Chiasms are repetitions of similar ideas in reverse order. You can find them throughout the Old Testament as they were widely used to add extra emphasis. (Read more about chiasms here.)
Here's the chiasm in Psalm 121:1-2:
A – Creation (the hills)
B – My help come(s)
B' – My help comes
A' – Creation (heaven and earth)
Where will we look for help this week?
We often look to money, to our family, to a change in our situation, etc. And God can and often does work through those things.
But instead of looking at created things for help, let's look directly to the source, to the Creator Himself.
These two verses are the only ones in this psalm to use pronouns in the first-person: "I" and "my."
Let's keep it personal this week, too. I look and you look. My help and your help will come from the Lord.
What kind of help do you need this week? Please leave a comment here or visit our Hide His Word Facebook group to continue the conversation.