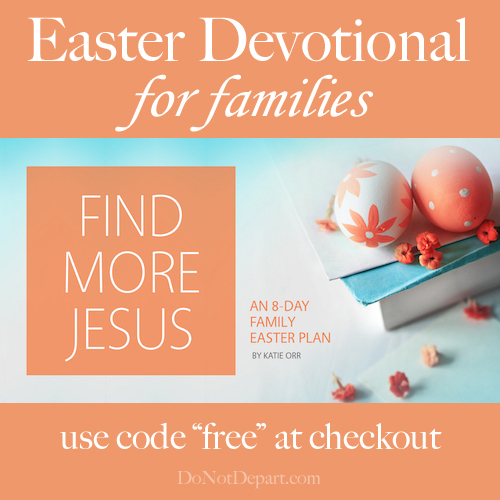 We all know how easy it is to let the culture dictate our norms. Nowhere is that more highlighted than during Christian holidays. Santa Claus and presents become the dominating theme at Christmas. The Easter Bunny and candy overwhelm our senses at Easter.
Jesus gets crowded out more every year.
In order to nurture our children in the Lord, we have to be intentional about how we celebrate. There is nothing wrong with candy, but if our little ones wake up on Resurrection Sunday thinking it is only about a giant bunny and jelly beans? We have lost our way and are taking them with us.
With this in mind, Do Not Depart founder Katie Orr created an 8 day family devotional to help her young children keep their hearts and minds focused on Jesus in the days leading up to Easter.
Find More Jesus is designed to be used from Palm Sunday through Easter Sunday. Suited for children from 2–9, each day includes scripture, activity suggestions and topics for discussion. The activities are fun and the theology meaty for this age range. I think Day 6 will especially appeal to your kids and be a memory maker (it includes a normally off-limits activity!)
Download Find More Jesus for FREE today (use the code "free" at checkout,) and you will have plenty of time to gather the few materials you will need for activities.
Let's continue to encourage our children to keep their eyes on Jesus!
How do you keep Jesus at  the center of your family's Easter observation?
Share your favorite family-oriented Easter resources in the comments!