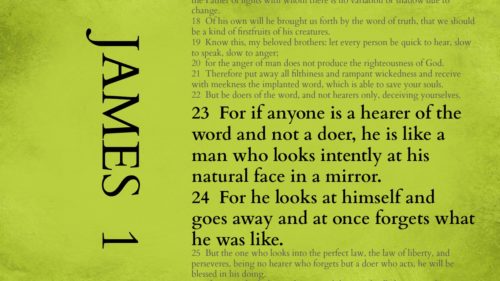 [click on picture above then download for full-size wallpaper]
MEMORIZE
Plan A:
For if anyone is a hearer of the word and not a doer, he is like a man who looks intently at his natural face in a mirror.
For he looks at himself and goes away and at once forgets what he was like.
James 1:23-24 (ESV)
Plan B:
for the anger of man does not produce the righteousness of God.
James 1:20 (ESV)
MEDITATE
When is the last time you looked in a mirror? This morning? Last night? Do you remember what you saw?
It's likely that you remember what you looked liked because you've looked so many times before. But what if you forgot as soon as you walked away? That's what it's like when we read [hear] a scripture, but then don't do it.
Let's not just look this week, but do what we see as we memorize this week.
PRAY
Lord,
We want to remember what we hear. But better yet, we want to do it. Give us memory and courage and initiative to love in actions, not just in words, this week. May you receive all the glory.