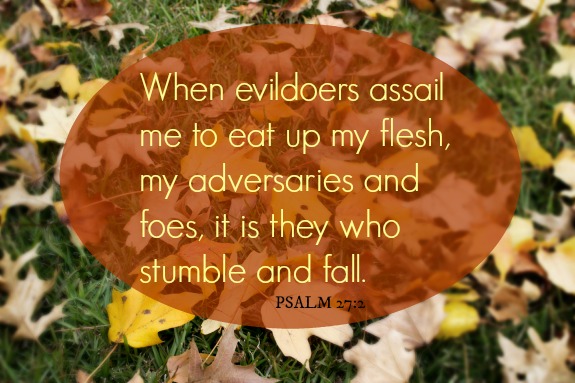 As the saying goes, haters are gonna hate. Our enemies want us to fall.
However, most of us don't see "evildoers" coming full-force at us. Or "adversaries and foes" wanting to "eat our flesh."
Instead, maybe they appear this way:
What spoils a good day for you?
What tempts you to have a bad attitude?
What causes you pain?
What crowds out the good?
Whatever form these vandals take in your life, remember that they are the ones weakened by their efforts. They can't stay on their feet when you are standing in your safe place with the lights turned on (Psalm 27:1).
This week we're learning Psalm 27:2. And even though each verse in Psalm 27 is beautiful enough to stand alone, find connections between all the verses as you learn them, seeing how one verse leads into the next. The beauty of memorizing a whole chapter, one verse at a time, is the space and time it gives the Lord to weave all the verses together for you.
When evildoers assail me to eat up my flesh, my adversaries and foes, it is they who stumble and fall.
Psalm 27:2
What is one "enemy" you expect to come against you this week?
How are you preparing to stand against it? Please share.