Don't lose what you fought to gain.
Embedding words from a page to words in a brain isn't quick or easy. If you've memorized one scripture or one thousand, you understand. After putting in time, energy, and prayers, you don't want those words to fade away.
But with a little planning, you can keep them in your heart with much less work than it took to put them there in the first place.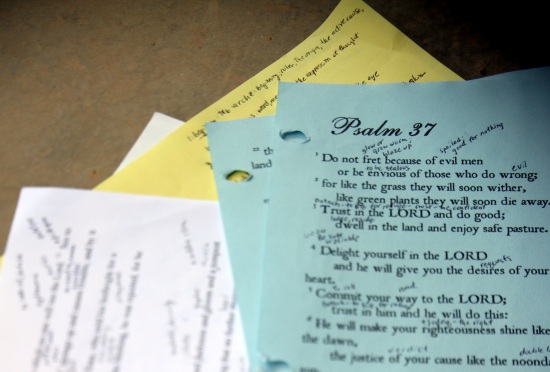 Here's how I do it. (Please share below what works for you!)
1. Gather verses in one place.
You may prefer a computer program like ScriptureTyper or MemVerse or a phone app. As long as you capture all your verses in one location, that's great.
I prefer a binder as home base for all my verses. I print out the chapter I'm learning with margins wide enough to write notes on the side or in between lines. There I jot down meanings of Greek words or alternate translations or special insights as I memorize. I also add a starting and ending date (when I remember, ironically).
Then I file all the chapters together in the binder in the books-of-the-Bible order.
For individual verses, I print out a running list on continuous pages, also in Bible order. I reprint the whole document periodically to include the newest verses I've learned.
Once you've gathered your verses all in one location, you're ready to move on to scheduling.
2. Make a review schedule.
This step is crucial. Without a plan, you may find your verses disappearing from your brain.
There are many approaches to scheduling review, and if you use an online system, they'll likely have a review plan for previous verses. But the simplest approach for me (and thus the one I'm most likely to use), is to work through the pages in my binder in the order I've filed them.
I review one chapter and one sheet of individual verses per day, four days a week (give or take), for about 5-15 minutes.
Sometimes my review is nothing more than a quick read-over. That's not ideal, but it's better than nothing, and I'll come back around to each page soon enough.
What works better is reviewing each verse of the chapter or page a minimum of five times. What you don't remember the first time or two, you'll likely remember by the fifth.
3. Use the heart.
The most important place to keep your verses active is your heart. Without sinking them deeply here, they'll remain only words.
The heart is where Spirit-work takes place. On you. Through you. Here you realize word-for-word accuracy isn't as important as the meaning behind those words. Here is where you let the heart of God change your heart for God.
This is the review-on-demand, as needed, anytime, anywhere. Middle of the night awakenings are a common time for me to mentally recite a chapter. Also in waiting rooms. In conversations with friends. In hard times. And in happy times. Let your heart use these words to express itself.
But remember…
Don't be discouraged when you do forget some. Because you will. While we all desire word-for-word retention of everything we've learned, heart transformation is what God is after.
Consider your review time as an invitation for the Lord to change your thoughts through His thoughts. That's the goal.
In reviewing His words, you're valuing what He values. And with that, He is honored.
I will meditate on your precepts and fix my eyes on your ways.
I will delight in your statutes; I will not forget your word.
Psalm 119:15-16
How do you retain verses you've memorized?
Please share what works (and even what doesn't) for you.
Visit our Scripture Memory Tips posts at the bottom of our homepage and also our Facebook memory page for more resources. We're reviewing on our own this summer and beginning a new Hiding His Word challenge in August. Hope you'll join us!