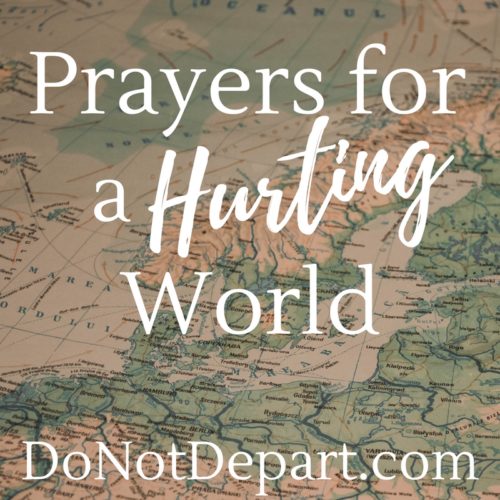 It often seems that when I turn on the television, open my Facebook, or read the news there's another painful event happening somewhere in the world.
Our world is hurting and broken.
And I know that it all began when Adam and Eve first bit into that juicy, tempting fruit. Sin entered the world and is still lurking. Wickedness is rampant and Satan is smiling.
But lest we be disheartened, we must remember:  God is still on the throne!
So, as Christians, what can we do? Where is our part on this world-stage of events? Terrorism, murder, hatred, racial tension, poverty, and bigotry abound and we seem so small.
There are a lot of great ways to be involved locally, donate monetarily, and travel and serve missionally.
But there's another thing we can do and need to do to help our hurting world.
We can pray.
God has called us to bear one another's burdens. He's called us to pray without ceasing.
And this seemingly small thing can move mountains.
Why Pray for our World?
Scripture urges us to prayer and models powerful prayers to us. (Matthew 6:6, 9-13)
Scripture shows us that prayers move God's heart (Matthew 7:7-11)
Scripture shows us that prayer is a powerful weapon (Eph 6:12, 18)
Time spent communicating with God changes our hearts and minds to align with His (Luke 22:42)
Time spent in quiet prayer tunes our hearts to hear God's voice more clearly (John 10:27)
Praying for others is an honor that generates Christlike compassion (Galatians 6:2)
This month at DoNotDepart we'll focus on some specific issues and events that our pained world is facing. We'll even give you some printable prayer prompts later this month that will encourage you in your prayer time with God. We'll show you ways that you can pray and arm you with Scriptures that you can use as you lift your hearts and voices to God, crying out on behalf of humanity and it's need for wholeness in Christ.
Please join us.
Ali