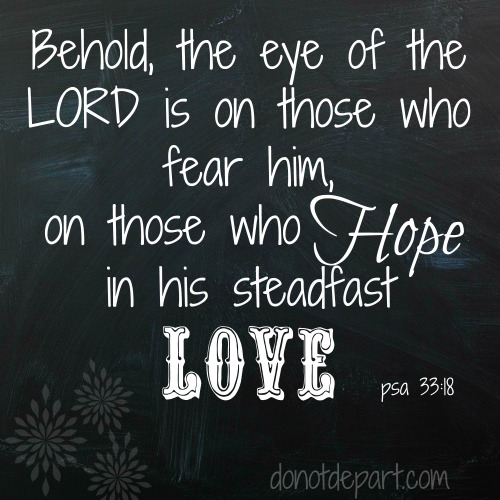 A loving Father always watches His children, ready to help and protect them. He is trustworthy and His love is steadfast.
Thank you, Father, for always keeping your eye on us, your beloved children!
18 Behold, the eye of the LORD is on those who fear him,
on those who hope in his steadfast love,
19 that he may deliver their soul from death
and keep them alive in famine.

20 Our soul waits for the LORD;
he is our help and our shield.
21 For our heart is glad in him,
because we trust in his holy name.
22 Let your steadfast love, O LORD, be upon us,
even as we hope in you. (Psa 33:18-22, ESV)
Every day this month the Do Not Depart team will be posting a scripture graphic that you can use to spread the Word of God. Share it on social media, print it out and write someone a letter, email it to someone who needs encouragement.
You are free to share our image with Psalm 33:18 above. If you have questions about how to download images, just ask in the comments (be sure to tell us what type of computer/device you are using.)