How does a common woman who makes a living using her sensual skills end up in the faith chapter of Hebrews? If there's hope for Rahab to be praised for living by faith and to end up in the family line of Jesus,  there's hope for women today.  Common women can live by uncommon faith.
If you've ever wondered if Rahab's deal with the two spies was really an act of faith or simply good business, you're not alone. As a woman of the night who strategically lived on the city wall, she was no stranger to transient men.  After all, even the King knew Rahab provided lodging for the two young men. But, she willingly deceived him when he commanded her to give them up. So where does faith emerge in the lustful, lying ways of Rahab from idol-loving Jericho? We find the answer in the book of Joshua.
Rahab's simple Faith
Rahab didn't know of God's plans for Israel, His promise of a redeemer, or His holy character, but what she knew was enough to produce simple faith and boldness.  She declared her new faith to the two spies as they lay hidden on her rooftop. "I know that the Lord has given you the land, and that the fear of you has fallen upon us, and that all the inhabitants of the land melt away before you."   She had heard about Yahweh, and she believed He was all-powerful. Unlike the gods of Jericho, He has the authority to give land and remove nations, and she admitted her fear of Him. "And as soon as we heard it, our hearts melted, and there was no spirit left in any man because of you, for the Lord your God, he is God in the heavens above and on the earth beneath," (Joshua 2:8-11).
When confronted with God's actions, Rahab had the uncommon faith to believe in God's supremacy.
But believing is common, since "Even the demons believe," (James 2:19).
Rahab's uncommon faith
Choosing to actively put our faith in what we believe is uncommon. Before she had all of her questions about Yahweh answered, before she knew what would happen after the defeat, before she knew if she would be accepted by the people of God, before she knew how anyone could have such power … she chose to believe. She didn't have to know it all to put her faith in God. It was enough to know "he is God in the heavens above and on the earth beneath." True faith is demonstrated by the works we do, "And in the same way was not also Rahab the prostitute justified by works when she received the messengers and sent them out by another way?" (James 2:25)
When confronted with what God has done, Rahab had the uncommon faith to act on who He is.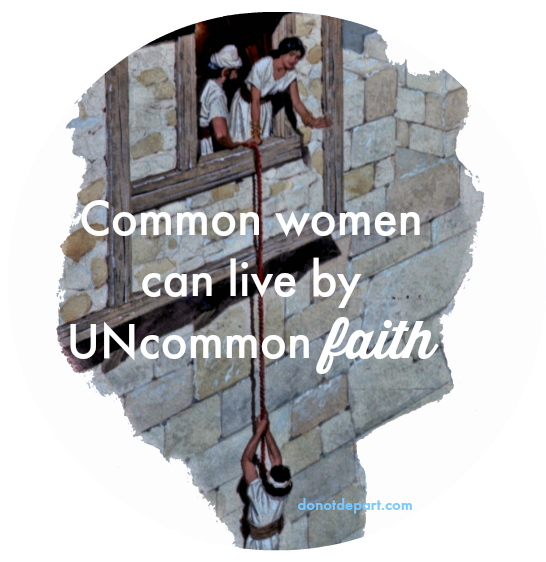 She put the survival of those she loved in God's hands.  As Rahab stood with all of her relatives "outside the camp of Israel," (Joshua 6:23) watching the dust settle from the fallen walls of her hometown Jericho, she must've had no doubt that she had chosen the right side.  "By faith Rahab the prostitute did not perish with those who were disobedient, because she had given a friendly welcome to the spies." (Hebrews 11:31)
Is your faith uncommon?
God used the uncommon faith of a once-common woman to accomplish His story of bringing grace through faith to mankind. Hers is a story of redemption, born out of simple belief, resulting in bold action. Oh, that we would be uncommon women today! Common women can live by uncommon faith.
Who do you believe God is? Are you boldly acting on who you believe He is?