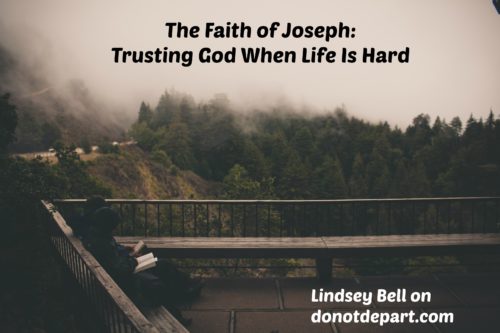 Hebrews 11 begins like this: "Now faith is confidence in what we hope for and assurance about what we do not see" (Hebrews 11:1).
Faith is not really faith…if it's something you can see.
Though all of the Biblical heroes listed in Hebrews 11 showed amazing faith, the one that sticks out to me the most is Joseph.
If you're not familiar with Joseph's story, allow me to share a brief summary.
Joseph was one of 12 sons of Jacob, and he was the favorite. In fact, Jacob favored him so much that the other brothers grew to hate Joseph. They hated him so much they eventually sold him into slavery.
Talk about family issues!
Then, when things finally began looking positive for Joseph, he was falsely accused of a crime he didn't commit and thrown into prison. (And, I might add, the reason he was accused was actually because he refused to sin!) Joseph's righteousness, instead of bringing him out of slavery, led him to prison!
Fast forward a few years, and Joseph finally got out of prison and became second in command in Egypt. A terrible famine spread throughout the land, and Joseph's brothers came to Egypt in search of food.
When the brothers came before Joseph, begging for food, I doubt anyone would have blamed Joseph if he had turned away in disgust. Or thrown them into prison. Or had them punished.
Joseph did none of these things. Instead, he said these powerful words: "Don't be afraid. Am I in the place of God? You intended to harm me,but God intended it for good to accomplish what is now being done, the saving of many lives." (Genesis 50:19-20).
That, my friends, is faith. Even while in slavery or in prison, Joseph believed in what he could not see. He believed in a God who would bring good from even the most terrible circumstances. 
A little while later, as Joseph neared death, he "said to his brothers, 'I am about to die. But God will surely come to your aid and take you up out of this land to the land he promised on oath to Abraham, Isaac and Jacob.' And Joseph made the Israelites swear an oath and said, 'God will surely come to your aid, and then you must carry my bones up from this place.'" (Genesis 50: 24-25).
Though Joseph never lived to see the Israelites being mistreated in Egypt, he knew it would come. He also knew God would one day deliver them. That is why in Hebrews 11:22, it says, "By faith Joseph, when his end was near, spoke about the exodus of the Israelites from Egypt and gave instructions concerning the burial of his bones."
Joseph couldn't see the future…but he knew the God who could. 
Here are some takeaways from the story of Joseph: 
1. God is with us, even when our circumstances suggest otherwise. He was with Joseph in the prison cell, just as much as he was with him in the castle in Egypt.
2. Sometimes, we have to wait to see God's redemption. Joseph waited a long time for God to free him from captivity, and the Israelites waited 400 years!
3. God is good, even though life is hard. Joseph knew God could bring good out of hard situations, and God eventually did!
4. Forgiveness is so much better than bitterness. Joseph forgave his brothers for the things they did to him. Because of his choice to forgive, their relationships were restored, and he got his family back.
5. Running from temptation is ALWAYS the right thing to do, even when you don't receive a reward immediately. When Joseph ran from temptation, he wasn't rewarded (quite the opposite in fact)….but God noticed. Eventually, Joseph was blessed because of his obedience.
6. Don't give up. Joseph had good reason to forsake his faith. His family betrayed him, he lost everything, he was punished for doing the RIGHT thing, he was forgotten in prison, he was lied about, and he was treated like trash. Nonetheless, he kept on believing in the God of his forefathers.
That is what faith is all about…trusting what you know about God even when you don't see the evidence it's true.
What other lessons can we learn from the life of Joseph? Which of those listed above means the most to you? 
Tweetables:

Faith is trusting what you know about God even when you don't see the evidence it's true.@DoNotDepart #ByFaith http://wp.me/p1Su7F-30Y Click to tweet.

Joseph couldn't see the future, but he knew the God who could. Lessons from  Joseph @DoNotDepart #ByFaith http://wp.me/p1Su7F-30Y Click to tweet.
6 Lessons from the Life of Joseph from @DoNotDepart #ByFaith http://wp.me/p1Su7F-30Y Click to tweet.
*photo courtesy: unsplash