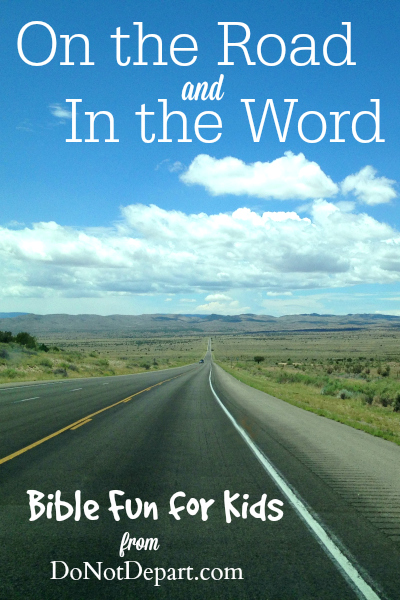 It's that time of year – road trip season!
Families are criss-crossing the country for summer vacations. Whether the trip is short or long, when you travel with children you'll find the going is sweeter with a few fun activities planned. And why not make them Word-centered?
Our family takes road trips frequently. My husband and I are originally from New England but now live in Texas, so every year or two we make the 32 hour drive back east to see extended family. This summer we went the other direction, exploring the western part of the country with our three kids. From a gorgeous sunrise in the desert at Arches National Park in Utah, to roaring waterfalls in Mount Rainier Park in Washington, we have enjoyed the exquisitely varied beauty God created in our country.
Are you traveling with children? When they're not looking out the window at the sights,  you can encourage your kids to stay in the Word while on the road with fun road trip activities. Here are a few to try:
Games:
Bible 20 questions – Play 20 questions, picking a person, place or thing from the bible
"I'm reading through my bible" memory game – Players in succession think of something in the bible beginning with a letter of the alphabet. Each player has to first remember all the previous letter words. Example:
Player 1: "I am reading through my bible and I see Adam."
Player 2: "I am reading through my bible and I see Adam and Bathsheba."
Player 3: "I am reading through my bible and I see Adam, Bathsheba and Caleb."
What bible book comes next? – Test each other's knowledge of bible book order by calling out book names and seeing who can remember the book that follows.
Scripture memory race – There are several variations you can try. Who can memorize a new verse fastest? Who can recall a verse when given the verse number? Who can remember the verse number when given just the verse?
Crafts:
Bible coloring pages – There are lots free options online. Here is a good one.
Sculpting with Model Magic – I am a huge fan of Model Magic. It is like play dough but does not make a giant mess of the car. Have your kids shape animals from the bible, or even try making an ark!
Make a journal – For older kids, pack the supplies to make a journal that they can use on the trip. Here are some cute ideas. They can record beautiful things they see, things God is showing them, and verses they have learned along the way.
Audio:
I always pack an inexpensive CD player with headphones for my youngest when we have a long drive. Then I toss in favorite stories and songs. You could include
Do you have fun road trip activities to add to the list? We love to hear from you! Please share in the comments.