Do you wish you could remember verses like these exactly when you need them?
Now you can!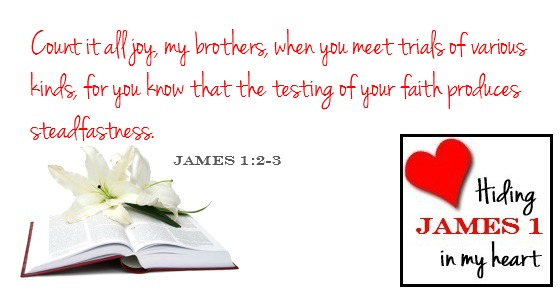 Join our no-pressure James 1 Memory Challenge. Register here. You'll receive more info now and a short email every Monday morning with the new verse of the week.
Beginning Monday, March 30, we'll learn 1-2 verses per week until we know James 1. If that's too much, try Plan B instead: 1 verse every 2 weeks. You'll still learn 8 key verses from James 1. Full schedules are here for Plan A—All In—and Plan B—Best Of.
RESOURCES
Whichever plan you choose, print any of these free resources now to get prepared. We offer them in the four most popular versions that our memorizers use, but you can memorize in any translation you prefer.
For extra community, join our Facebook group. Practice the verses using Scripture Typer. Share tweets using #HideHisWord.
INVITE OTHERS
Link-up coming in one month, April 27, for your blog posts on why/how you're memorizing James 1.
Questions? Comments? We'd love to hear in the comments that you're joining us, or to answer any questions you have.
Will you help us spread the word on your blog or other social media?